TRIBUTE: 1926 – 2007
The genius of O.P. Nayyar
M.L. Dhawan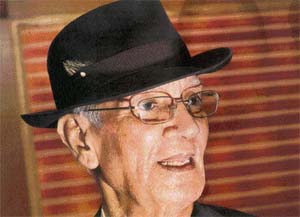 O.P. Nayyar had no formal training in music yet he went on to compose unforgettable melodies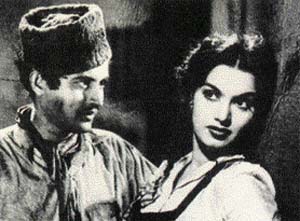 Hit songs of Aar Paar (1954) put Nayyar in the top league
MUSIC was an obsession with O.P. Nayyar. He became an AIR artiste at the age of 11. He was barely 17 when he composed Preetam aan milo and Kaun nagar tera door thikana, sung by his classmate C.H. Atma. The records of these were released by HMV in 1943.
Nayyar had no formal training in music and there was none in his family with a musical bent up of mind. His brothers and relatives were doctors, engineers and even judges. After trying odd jobs, Nayyar reached Bombay in 1949 to try his luck in the film industry.
Nayyar met Krishan Kewal, a producer-cum-director who was making Kaneez at that time. Ghulam Haider and Hansraj Behal were the music directors, but the work of background music was assigned to Nayyar. With Dilsukh M. Pancholi's Aasmaan (1949), songs like Dekho jadoo bhare more nain, Dil hai deewana jawan hai zamana (Geeta Roy) and Iss bewaffa jahan mein waffa dhoondte rahe (C.H. Atma) were noticed and so was Nayyar's musical prowess. The film, however, flopped at the box office.
Chham Chhama Chham (1952) by P.L. Santoshi was his next film, which also flopped. Then came Guru Dutt's Baaz (1953) with which Nayyar carved a niche for himself. Talat Mahmood's Mujhey dekho hasrat ki tasveer hoon main, Geeta Roy's Zara saamne aaa zara aankh mila and Aye dil ae deewane turned out to charbusters.
With Guru Dutt's Aar Paar (1954) numbers like Kabhi aar kabhi paar, Babuji dheere chalna, Hoon abhi main jawan, Ja ja ja bewaffa, and Yeh lo main hari piya in the voice of Geeta Dutt catapulted Nayyar to the top. Nayyar became a force to reckon with stalwarts like Naushad, Shankar-Jaikishan, Madan Mohan and C. Ramchandera.
Nayyar met Asha Bhosle for the first time in 1952 while composing for Chham Chhama Chham. Asha came up with what Nayyar wanted. Credit goes to Nayyar for giving her a distinct style. When B.R. Chopra signed Nayyar for Naya Daur (1957), the former wanted Lata to sing for Vyjanthimala. Nayyar put his foot down and even at the risk of losing the film told Chopra that it was either Asha and OP or Lata Mangeshkar. Asha put her heart and soul into Mang ke saath tumahara, Urden jab jab zulfeen teri and Sathi haath badhana (with Rafi) and Reshmi salwaar kurta jali ka with Shamshad Begum.
Asha considered Nayyar the architect of her career. Nayyar tapped the robust and earthly facets of her vocals and created memorable numbers — the sweetly innocent Balma khuli hawa mein, the seductively haunting Jaiye aap kahan jayengey, the jaunty Zara haule hauley chalo more sajna, the tantalising Raaton ko chori chori, the alluring Woh haseen dard dedo and the plaintive Chain se humko kabhi aap ne jeena na diya.
Geeta Dutt's and Shamshaad Begum's vocals were different from that of Asha's and Nayyar used them to perfection in Ehlo main hari piya, Jata kahan hai deewane, Tumhee ne dard diya hai tumhee dawa dena, Thandi hawa kali ghatta aa hee gaye jhoom ke, Leke pehla pehla payar, Meri neendon mein tum and Kajra mohabat wala.
Asha often objected to his working with other female singers. When Nayyar worked with Krishana Kalley, Asha just could not bear it and that was where there association ended.
It would be unfair to say that due his emotional closeness with Asha, Nayyar distanced himself from Lata. He believed in that supermacy of Lata over Asha as an artiste. Asha, Geeta and Shamshad Begum also made his compositions come alive.
Nayyar was a strict disciplinarian who would brook no interference and laxity on the part of an artiste. While recording for Raagni number Man mora banwara niss din gaye geet milan ke, when Kishore Kumar went off key, Nayyar immediately summoned Rafi much against protests from Kishore. Though Rafi was his favourite singer yet when he came late for recording of Humsaya, he used Mahender Kapoor in his place of Rafi in films like Kismet, Kahin Din Kahin Raat and Sambandh.
Nayyar was an outstanding composer. One wonders how could anyone with no formal training in music come out with such unforgettable compositions. Nayyar's melodies stand testimony to the fact that commitment can overcome basic constraints. He composed songs suffused with raags, created ghazals and made music that was richer than that of classically trained composers.
OP Nayyar had turned into a recluse long back and stopped composing. But to the last, the maestro set his own trends in creating tunes and lived by his own rules. Even at 81, he looked as grand and dashing as ever, with the smart top hat intact.
Before he died on January 28, he had admitted that his decline as a composer started with the departure of Asha. Singers like Vanijairam, Dilraj Kaur, Kavita Krishnamurthy and Krishana Kalley could not sustain his flogging career. The departure of Asha followed by Rafi proved his undoing as he had never been used to summoning Lata, Talat, Mukesh, Manna Dey, Hemant Kumar, Kishore Kumar. He felt that one is bound to suffer if one keeps all the eggs in one basket.
Some time ago, Javed Akhtar approached Nayyar for an album of songs to be written by him, sung by Asha and composed by Nayyar, but the offer was politely declined. The music director said he did not wish to go back to the industry after having burnt his boat with Nischay (1992) and Zid d(1993).
The maestro of over 60 films with racy rhythms, Omkar Prasad Nayyar was as stubbornly uncompromising as Naushad when it came to the style and tenor of his compositions. He may be out of our sight, but his lilting and languorous, sizzling and scintillating numbers will always keep him alive in our mind. His jaunty hat propped over thinning silver hair will continue to haunt music lovers, with his immortal song Jaya aap kahan jayengey... door tak aap ke peechey peechhey meri awaz chali aayegee....