"Mani pushes the goal when it comes to his actors"
It was much tougher to play Gurubhai in Guru than the character of Lallan in Mani Ratnamís earlier film Yuva, confesses Abhishek Bachchan in an interview with V. Ananth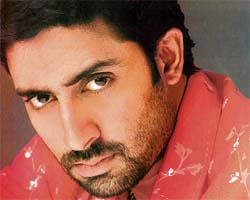 YOU ought to complement Abhishek Bachchan for slipping effortlessly into the skin of the character of Gurukant Desai in his latest release, Mani Ratnamís Guru in which he has been cast opposite Aishwarya Rai. Abhishek, who has given an award-winning performance in the film, is quite excited about having been a part of Mani Ratnamís film.
"There was absolutely no reference point in Guru for me as an actor, though people who have seen the film infer that the character of Guru has been inspired by the rags-to-riches story of the late Dhirubhai Ambani", quips Abhishek.
Abhishek adds, "For the character of Lallan in Yuva, there were no boundaries. Mani wanted Lallan to be like an animal whereas the character of Guru is totally opposite to that of Lallan. Mani and I did not work on the character of Lallan because Lallan was unpredictable, whereas Guru had a definite character sketch. The only thing, which was common in both Lallan and Gurukant, is their level of confidence. Guru was a very demanding, tough and complex film in which every one was creatively in tune right from the director to the actors. You enjoy the character if you know the basic traits of the character that you set out to play."
`A0According to Abhishek, it was a daunting task to get into the skin of the character of Gurukant because we had to bring out several nuances to depict the complex character. "As an actor, I had to maintain a character which demanded change in age as the film unfolded. It required Mani and me to sit down and work out what exactly we wanted. Since we didnít want the character to be fake, we decided to spend hours and hours for make up tests and went in for a realistic form of make up.
In a lighter vein, Abhishek says that though Mani did not take great cinematic liberty in Guru, acting in the film gave him the liberty to do, what actors do not generally get to doóthat is to eat the South Indian sweet dish- Mysore Pak every day, to put on weight as per the demand of the script. "In Istanbul where we had shot the early scenes with Mallika Sherawat, I had to eat a local sweet called baklawa. I could maintain the continuity of my character because Mani preferred to shoot in a chronological order."
Talking about Mani, Abhishek says that Mani Ratnam as a director is open to know the actorís interpretation of the scene. "If Mani is convinced, he will incorporate what the actor interprets of the scene. No wonder every film of his is bigger than his earlier film. A film like Guru will not happen in my life once again. When Mani offers an actor a film, he is going to challenge the actor by giving him a tough role. If Mani didnít think that my role in Guru was a step ahead of the role of Lallan, he wouldnít have come to me at all because he is one director who pushes the goal."
Abhishek goes gaga over Mani Ratnam. "As an actor, you do not look out only for the script. Mani has a humble streak, which throws you off instantly. Having earlier acted in Yuva, you know that Mani will not allow you to go in for a cakewalk when he offers you a film of his. When you work in his film, you know that he is going to push you to places you have never been earlier to, because Mani will not conform to what is the done thing in Bollywood. To me, Yuva was a Godsent at that point of time in my career."
Abhishek believes strongly that the actors are not important for any film. "I have till date never understood what the chemistry of any star pair has to do with the fate of the film at the box office. If the audience likes a film, every one connected with the film also stands to benefit. Unfortunately, we actors tend to think that we are the be-all and the end-all of any and every film. We are not, because letís face facts we actors are secondary!"
Now that Guru has been released, Abhishek is all set to concentrate on his future projects like Shaad Aliís Jhoom Barabar Jhoom, Ramgopal Varmaís Sarkar 2, which will be a sequel to his own Sarkar and Goldie Behlís Drona, where his co-stars will be Kay Kay Menon and Priyanka Chopra. ó MF