Joga Singh, Rajdeep win Ludhiana Marathon
Anil Datt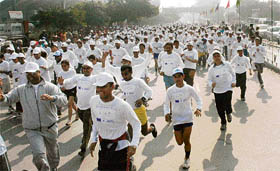 A view of Ludhiana Marathon held on Sunday. — Tribune photo by Sayeed Ahmed
Ludhiana, February 4
More than 2000 persons, including boys and girls, men and women as well as veterans, took part in the first Ludhiana Marathon organised by an NGO- Bharat Vikas Parishad here today. Almost all the participants completed the run which began from Guru Nanak Stadium and culminated at Kirpa Nidhan School, near octroi post on the Ferozepur road.
Kalu Ram Bhanot (80) of Nakodar was the centre of attraction. He, along with some other aged persons, turned out to a source of inspiration for the youngesters.
The organisers had made arrangements of providing glucose water at eight places on the marathon route. People cheered up the participants all along the route. About 30 boys, riding scooters and motorbikes led the participants and exhibited stunts.
Joga Singh from Railways and Rajdeep Kaur of Ludhiana emerged winners in the men's and women's sections, respectively. Joga Singh covered the distance (8.1 km) in 26.36 minutes while Rajdeep took 33.42 minutes to complete the run.
In the men's section, Tejinder Singh from Sirhind and Francis Shallu from Punjab Police finished second and third, respectively, while Jiranjit Kaur of Jalandhar and Ranjit Kaur from Amritsar secured second and third positions in the women's section.
Besides, mementoes, cash prizes were given to the first three position holders. The winners in the both the sections received prize of Rs 5,100 each, the runnes-up Rs 3,100 and third position holders were given cash prize of 2,100 each.
Earlier, a tricycle race for the physically handicaps was conducted in which around 80 persons competed. Surjit Singh came out triumphant and received a cash prize of Rs 5,100. Ranjit Singh finished runner-up and got Rs 3,100. Niranjan Singh secured third spot and pocketed a cash prize of Rs 2,100.
Mr Chander Shekhar, ADGP (Law and Order), Punjab, flagged off the marathon. Ramandeep Singh Grewal, former captain of Indian hockey team and presently working as deputy director, Punjab Agricultural University, Ludhiana, Dinesh Mongia, member of Indian cricket team, Arun Dhand, former World Veteran Champion (badminton) and Japji Khaira, Miss World Punjaban, were present at the inaugural function.