Every election brings hope and each one snuffs it out too. The villagers in the Mand area battled imposing odds to convert the barren, hostile land to fields. Now they are fighting a different battle — the fight for their right to decent living. Will this election be any better for them than the last one, wonders Vishal Gulati
The news of the day hurtles across the placid expanse of the Beas like a sonic boom. "Bebe, kukari ney do andey dethey hun."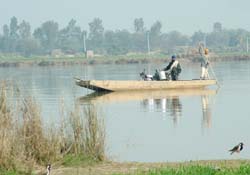 A villager crosses the Beas on a boat with his two-wheller on board. He lives on an island in the Mand and the ferry is his only link to mainland. — Photo by S.S. Chopra
The toothless, wrinkled and emancipated grandmother suddenly fills up with delight and she chortles merrily. The four-year-old dances on the embankment as the manually propelled ferry cuts labouriously through the muddy waters of the river to bring granny home to good news. It is not every day that the big fat hen in the backyard lays two eggs in a day.
Bebe has spent her entire life in Baupur. She came to the Mand area after the partition of the country and battled slush, slime, quicksand, elephant grass, malaria, tigers and antlers to subdue the wild sandbanks on the Beas and make it cultivable. It has been backbreaking hard labour and though Bebe is not yet 60, she looks eighty.
The widow's children and grandchildren are of course better off than she could have ever imagined –there in electricity now and there are tubewells to water the fields and surely mobile phones and television sets.
But Baupur and a score of other villages located on these Beas-manufactured islands are still as distant from the rest of the world as they were a 100 years ago. Makeshift bamboo-pole propelled ferries are the only connection to the town located across the river. The postman is yet to knock on the villagers' door and the school is 12 kms and a boat ride away.
Elections have come and gone. They have left in their wake simmering discontent over continual apathy.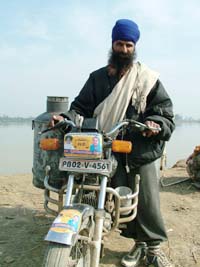 No light from this headlight: A milk-vender in Mand area has masked the headlight of his motorcycle with a poll sticker. "I don't ride at night, so why do I need the lamp,"he asks innocently.

The life of nearly 4,500 villagers of Baupur Mand, Baupur Jadid, Baupur Kadim, Mohammadabad, Rampur Gora, Kadir Bhaini, Baradpur Bhaini, Mubarakpur, Mand Mubarakpur, Sangri, Bhim Kadim, Mand Gujjarpura, Mand Akalpurukh, Bandu Jadiel, Bandu Kadim and Kishanpur Karka in Sultanpur Lodhi constituency, Kapurthala, still moves at a snail's pace on bedas (boats).

From sunset to sunrise, the villages remain cut off from the rest of the world. Though the telecom revolution enables them to convey and receive news from across the Beas, they can't transport themselves without the help of a boatman.

Bhajan Singh of Baupur Jadid village is sitting outside his "kutcha" house along with his family enveloped in the benefic smile of the afternoon sun. He is surprised to see visitors. It was yet too early for the election staff to arrive on their mandatory rounds.

"This time," he says with a ring of déjà vu, "we have decided to put forth our demand firmly before the politicians. Earlier, we waged a war to convert the barren land to fields, now we are fighting a different battle— the fight for our rights. We want the village to be linked to the mainland with a footbridge at least." There is no dispensary or veterinary centre on the island, he rues.

"Only the Akalis have done something to mitigate our sufferings," he remarks. A few posters of Dr Upinderjeet Kaur of the SAD are pasted on walls but they are sparse and far between.

At the house of the sarpanch, Mr Kuldip Singh, a villager, is angry. "We have been living in hell since Independence. No politician visits the island

except during the elections. There is no regular bus service up to the river banks. A visit to the police post or post office across the island almost takes a full day. Our frequent memoranda to various MLAs and MPs have been of no avail," he fumes.

"Though the island is fertile, floods are terrorising us every year. We are loosing land but the administration is turning a blind eye to the problem. And for transporting the produce to the mandis, we have to bank on boats, " he says.

The sarpanch's house is decorated with a Congress flag.

Mr Kishal Singh is quite happy with the working of the Congress government. He praises the Congrees MP from the area for helping the villagers.

He lists out the achievements — a grant of Rs 5 lakh for buying two boats and the construction of a cremation ground in the village. Earlier, the villagers had to cross the river to perform the last rites of the dear departed.

His one son is working in Dubai and his daughter is studying in Class VIII. When the sarpanch's wife is asked whether her daughter would go in for higher studies in Sultanpur Lodhi, she replies off handedly: "I would prefer she learns household chores rather than waste her time commuting between the house and school 12 kms away in Sultanpur Lodhi."

The milk-vender at the river crossing, Lakhbir Singh, is in a hurry to get home before it gets dark. Every day, come hail or shower, he bikes down to the ferry at dawn, puts the vehicle on the boat and crosses over to return before dusk. He is more enthusiastic about the forthcoming poll and wears his political attachment virtually on his sleeve. He displays it proudly, too.

The simple Mand jat has masked the headlight of his motorcycle with a poll sticker. He says it is the right place for putting up election material. "I don't ride at night, so why do I need the headlight? I have put it to better use."