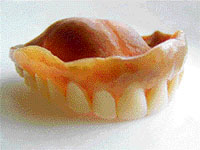 Mouthful of opportunity
Usha Albuquerque
Dentistry is one form of medicine we remember most acutely whenever we have a toothache. However, an increasing awareness of the importance of dental care to the general health of an individual has brought with it a greater demand for good dentists. The skill of a dentist is therefore required not only at times of emergency, but is of great significance in the area of proper dental care and correction of teeth. Moreover, this is one field of medicine in which women excel, as it involves great dexterity of the hands.

Careercature
Sandeep Joshi

Canít you choose some other route in search of better prospects?

Global footprint of Indian firms to grow: survey
Meenakshi Ganjoo
Indian companies intend to step up offshoring, reflecting the growing global footprint of many Indian companies, according to the latest McKinsey survey. According to the just released Global Survey of Business Executives : Confidence Index, January 2007, the number of Indian firms intending to hire staff in a different country from the company's headquarters has increased by 12 per cent from 30 per cent in September, 2006, to 42 per cent in December, 2006.

Interview intelligence
Manners pay, not mannerisms
I.M. Soni
Youngsters aspiring for good jobs and bright careers try hard to cultivate their personality. Often, their concept of personality is flawed. They equate it with a polished exterior. Hence, they follow the current craze in fashion and begin to think that they have developed a personality.

Needed, an addition in CAs
Number crunching might be a tedious task with balance sheets of companies spilling at their seams, but an acute shortage of financial professionals is making the task even more burdensome for firms. The shortage of qualified finance professionals is becoming ummanagable due to limited availability and growing attrition, KPMG Head of Risk Advisory Service Pradip Kanakia said in New Delhi recently.

Traditional tasks an impediment in CFOsí career graphs
Chief financial officers (CFOs) aspire to become strategic partners to the chief executive officers (CEOs) but they continue to spend a majority of their time on traditional tasks such as controlling costs, reporting and advising on tax and treasury matters, according to a study.

Career Hotline
Policy matters
Pervin Malhotra
Q I have nearly eight years of experience in an NGO. I am interested in applying for IIMís programme on public policy management. Can you please give me the details and a list of some other institutes that offer such programmes? I have taken the CAT and got a decent score.