M A I N N E W S
Shilpa steals show in UK parliament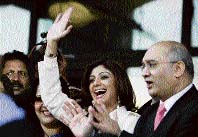 Bollywood actress Shilpa Shetty waves to onlookers as she addresses the media with British Labour Member of Parliament Keith Vaz near Westminster in London on Wednesday. — Reuters photo
London, February 7
Bollywood actress Shilpa Shetty, revelling in her newfound fame after winning the British reality television show, ''Celebrity Big Brother'', personally thanked Prime Minister Tony Blair for his support following a racist-bullying row at a six-minute meeting held here today.
The winner, who was tormented by a few fellow contestants on the live programme, said Blair had been ''very, very sweet'' and gave her a portrait of the parliament signed by himself and his wife, Cherie.
The glamorous actress, wearing a white sari, caused a media storm in the parliament as scores of Indian and British journalists pursued her, to the distress of parliamentary officials who enforce strict rules on visitors.
''He said I carried myself with utmost dignity and that he was sorry for what I went through in the (Big Brother) house,'' Shetty said to 80-odd reporters who had gathered outside the parliament.
A planned news conference inside the building was shelved by parliamentary gatekeepers citing security concerns.
Earlier, Shetty watched Blair perform in the weekly session of the prime minister's question time, during which Blair condemned racism in all its forms in response to a lawmaker's question.
Shetty emerged victorious from the Big Brother House last month after being subjected for weeks to disparaging remarks from some fellow contestants that sparked international uproar.
She told reporters that parliamentarians were much more polite than her fellow contestants.
''I expected the session to be boring, but I actually quite enjoyed it,'' she said of her visit, that included meetings with other ministers, lunch with lawmakers and several photo calls.
Shetty confirmed she will be publishing a book of her Big Brother experiences but denied rumours on entering Indian politics.
''I've never been politically inclined. Nobody has spoken to me about joining any party,'' she added.
Asked about her feelings towards her Big Brother tormenters, who have been vilified in the British press, she said she bore no grudges. ''I have forgiven them and have moved on. I request the media also to move on. I don't want them to suffer,'' she said.
Blair's spokesman later said he had been pleased to meet Shetty, pointing out that her triumph had underlined the fact that there is no room for racism in Britain. — Reuters