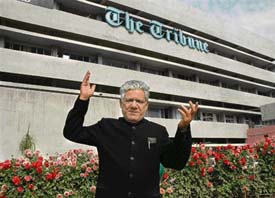 Om Shanti Om
Punjab da puttar Om Puri puts in a guest appearance at The Tribune office. Parbina Rashid chats him up
Tuesday morning brought with it a different kind of activity to The Tribune, not the usual chaos one is used to seeing in a newspaper office. Orders being barked at security staff to clear up the gateway and prepare a reception party to welcome "the guest". After all, it is not everyday that a celebrity like Om Puri drops in to look up his childhood friend. And guess what he does? He walks through The Tribune gate, looks up and exclaims Jai Tribune! The friend in question is Naresh Kaushal, editor of Dainik Tribune. As the man-in-black makes an impressive entry into Kaushal's office, we, a few lucky journos, get to witness a heart-warming scene — two old friends embracing each other, oblivious of the curiosity of the onlookers.

Where there is a will...
The Literary Society, Department of English, Panjab University, is all set to stage Mahesh Dattani's play Where There Is A Will.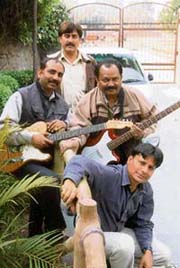 The band of boys
City's oldest band Triangle is all set to rock your world
Four different people from diverse walks come together and form a group called 'Triangle' about 15 years ago. The common thread is their love for the same kind of music. They stick through thick and thin and survive to be called the oldest band of the city. That's, however, is not news. The news is that after a long gap, the group is ready to rock you. This time in a different mood altogether.

Arclights beckon
For someone used to the limelight and the pressure of meeting people, Darshan Dave, seems a little shy when it comes to giving interviews. Once you break the ice, he is more than eager to talk you about his much-hyped serial Ghar Ek Sapna, which airs on Sahara One Television. Those who have watched him in Ghar Ek Sapna swear by his deep involvement in to his character.
Darshan Dave
YOUTH SPEAK
Come February and comes the month for celebration of love. Roses, chocolates and gifts the mood is all set for expression of love. February 14 each year is celebrated as Valentines Day. In this era of competition and stress we all are busy in our lives and hardly get any time to spend with the ones we love. Gen X seems to have a great fondness for the day.


BIG PICTURE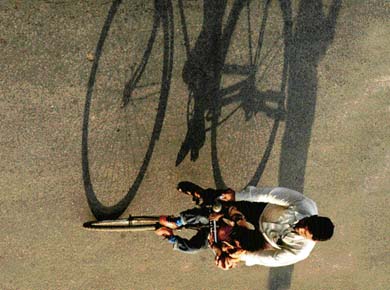 WHAT A CHANGE! As the sun moves towards the Tropic of Cancer and the days get longer and warmer, this father-son duo gladly pedal their way home under the February sun with shadows for company. — Tribune lensman Vinay Malik captures the mood.
De descends
Humming Pretty woman walking down the street… the svelte, sensuous, Shobhaa De, a pretty picture herself came to city, to unveil her latest collection, of Cocktail Sarees at Samsaara in Hotel Taj. Draped in her own creation, a sizzling black saree teamed with stone jewellery, it seems years just make her more and more beautiful and creative.
SRK on Episode I of Antakshari
Colgate Maxfresh Antakshari — The Great Challenge hits television screens tomorrow. Shah Rukh Khan will introduce the first episode on Friday. With him will be celeb guest Shaan. Still produced by Gajendrra Singh, the show will now be seen in a snazzier avatar with new inclusions to the format and an exciting reality aspect.
SIDE LANES
Levels of stress
Newman is blonde, six, with huge blue eyes. His parents visit India often on teaching assignments. Kay, the mother, is a beauty with red hair and green eyes. Patrick, the father, is over six feet two, blonde, is a black belt in karate, with a heart like a marshmallow. He cannot bear his son's tears and is often stressed out by the harsh reality around him. He reacts with a bad tum, but smiles through it.
FILM & FASHION
Dukess Jessica
Jessica Simpson was thrilled with her performance in the movie The Dukes of Hazzard, because she felt she was finally able to establish herself as an actress by playing sexy Daisy Duke. The star claims she worked hard portraying the tomboy, especially while filming the provocative video for These Boots are made for Walkin.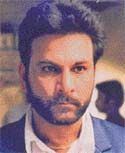 NEW RELEASE
Friday blast
Anurag Kashyap's much-awaited Black Friday finally makes it to theatres all over. The censor board has passed this film with 'A' certificate. The film is directed by Anurag Kashyap whose Paanch has been stuck for many reasons. Despite this the courageous director is ready with another bold him Black Friday based on the 1993 Mumbai blasts. The movie will finally see a release today at Fun Republic Manimajra.
Pawan Malhotra in a still from Anurag Kashyap's Black Friday Brahm Prakash is all set for a showing at Ravindra Bhavan. This time around, he is trying his hand at acrylic and bright colours Parbina Rashid
There is a 'point of departure' in every artist's style, and going by Brahm Prakash's recent works, he has reached that point. Getting ready for his forthcoming exhibition at Ravindra Bhavan, Delhi, Brahm Prakash's paintings show all the signs — change in medium, going liberal with colour and most importantly, letting go of his bow lines.Indian ethos through the eyes of French cartoonist Christian Cailleaux Smriti Sharma
Cartoon strips are not just about evoking humour and tickling the funny bone. They have a sensibility attached, as in the works of Christian Cailleaux, a French cartoonist exhibiting at Alliance Francaise, Sector 36.


In a league of his own
Resolve to preserve his family's tradition makes Avirbhav Verma pursue excellence in the field of instrumental classical music. Graduating from a child prodigy to maestro, still in his teens, this serene, sober and scintillating performer is the new face on the classical percussion music scene in the region.





BOY WONDER: Avirbhav Verma plays the Tabla Tarang. — Photo by Malkiat Singh
artkeep
Winter is on its way home, the days are getting longer, the sun's a new hue. And if the cleaning bug bites you too, here's how to care for your precious artwork.
---