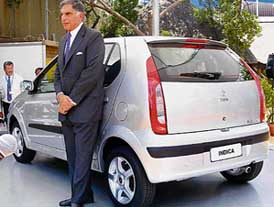 Steeled to succeed


With his aggressive bidding for Corus, the low-profile Ratan Tata has catapulted Tata steel to the fifth-largest steel manufacturing unit in the world. It seems for this trained pilot, the sky is the limit. Shiv Kumar profiles the tycoon who has finally emerged out of the patriarch JRD's shadows.

Second coming of lavaani
This song-and-dance extravaganza originated at temples in Maharashtra. It was also used as a form of entertainment and morale booster to the tired soldiers during the 18th and 19th century Maratha battles, writes Dhanvanti Keshavrao

Meet the housecleaning brigade
Daksha Hathi
So many of the wonder cleaning products available in the market are poisonous to plants as well as to pets. The first synthetic detergents came into our lives in 1907. Before then, the world was using soaps for cleaning everything. We forget that detergents are made from petrochemicals, a non-renewable resource, and so many detergents are not good for the environment as they are not easily biodegradable.
Capital heritage
A hand clasp across the oceans ensured Delhi a splendid cathedral. Jamila Verghese writes about the Capital's Cathedral of the Redemption.
The book inside an old trunk had a blue hard cover with thick worm-eaten pages. I had discovered`A0 the minutes register of Delhi's Cathedral of the Redemption. Soon one was drawn into the myriad problems and delights of the saga of the building of this church.
For a memorable holiday
How often have we dreamt about living in a city close to the sea, in cottages and bungalows which have weathered the test of time and amble in quaint streets? Fort Kochi offers all this, reports Jangveer Singh

Miles and miles of heart
Ervell E. Menezes
Good literature abounds in stories of orphans looking for love. They make poignant subjects like Oliver Twist or Nicholas Nickelby. In much the same mode is Heidi, a little chit of a girl passed from pillar to post but who because of her kind, caring ways is able to find love, especially in her crusty old grandpa.
Star parade
Bigger-than-ever budgets and grand canvases have made multi-starrers the in-thing for Hindi cinema, writes Vikramdeep Johal
The more the merrier—this seems to have become the casting credo of Bollywood's big banners. Of the 12 principal actors in Nikhil Advani's Salaam-e-Ishq, only one is an unknown, South African lass Shannon Esra (the gori mem paired with Govinda). The rest are all stars, veterans as well as relative newcomers, perfectly capable of forming a celebrity cricket team for a charity match.
Hollywood Hues
Few takers for this legend
Flags of Our Fathers switches back and forth in time to reveal how hype plays a major role in the war effort, writes Ervell E. Menezes
Veteran filmmaker Clint Eastwood continues to demolish American legends. What he did with that bloody sport of boxing in Million Dollar Baby, he does in Flags of Our Fathers with a World War II incident Holllywood glorified in the 1949 John Wayne-starrer Sands of Ivo Jima.
No laughs for Hitler
The first German attempt at a film comedy on Adolf Hitler has failed to click, reports Tony Paterson in Berlin
Mein Fuehrer: The Truly Truest Truth About Adolf Hitler by the Jewish director Danny Levy was meant to be Germany's long-awaited answer to classic film satires about the Nazi leader such as Charlie Chaplin's The Great Dictator or To Be or Not to Be by Ernst Lubistch.
'I play one of the most fabulous roles'
The youngest nephew of Aamir Khan in Hum Hain Rahi Pyar Ke has grown up. After his first film as an adult, Kalyug, did fairly well, Kunal Khemu is up for trial again. He talks about his second film Traffic Signal to Vickey Lalwani