Voters defy rain; 74 pc turnout in Banur, Rajpura
Sarpanch arrested for ferrying voters
Pradeep Sharma
Tribune News Service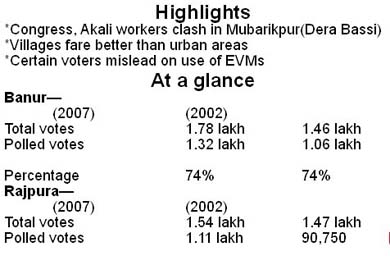 Banur/Rajpura, February 13
Turning out in large numbers, voters of Banur and Rajpura constituencies today defied the inclement weather by registering nearly 74 per cent voting in a peaceful election.

In fact, incessant rain since this morning failed to dampen the spirits of the voters as long serpentine queues were witnessed at a majority of the polling booths in the Banur Assembly segment from where the former the Finance Minister, Capt Kanwaljit Singh, is aiming for a hat-trick.

As many as 1,32,818 voters of a total of 1,78,603(74.25 per cent) cast their votes in the Banur segment, according to the Banur Returning Officer, Mr Narinder Sangha. In neighbouring Rajpura, atleast 73 per cent of a total of 1,54,155 voters cast their votes

The polling, which started on a dull note at 8 am, picked up momentum in the afternoon as the sky cleared. As many as 6,770 voters of the total 9,192 voters exercised their franchise in eight polling booths in Banur.

Activists and the candidates toured different parts of the constituency to supervise the poll arrangements and boost the party cadres' morale.

Capt Kanwaljit Singh and members of his family cast their votes in Chhat village.

Woman power was in full flow as an extensive tour of the Banur and Rajpura segments revealed, with female voters outnumbering their male counterparts in several polling booths. As many as 626 voters voted in one booth in Manakpur while 1122 voters out of 1377 voted in another booth in the village.

Ferrying of voters to the polling stations continued the whole day and there were reports of some of the voters having voter identity cards but not finding their names in voters' lists.

The Sarpanch of Agapur village(Dera Bassi), Mr Balbir Singh, and two others were arrested on the charges of ferrying of voters.

Strict security arrangements foiled any major untoward incident. However, a minor clash was reported between SAD and Congress

workers at Mubarikpur in Dera Bassi.

Polling officials experienced some anxious moments with an EVM developing a technical snag even before it could be put to use at Chauhanderi in Dera Bassi sub-division. An EVM in Lohgarh developed snag after a single vote was cast in it. However, they were later replaced.

Meanwhile, certain voters were taken for a ride by activists of SAD as they were asked to press the button at the top to "start" the EVM. In fact, the SAD-BJP candidate's name figured at the top of the machine. Similarly, scores of wheat flour bags allegedly belonging to the Congress candidate meant for distribution among voters were seized by the police at Lalru last night.

Karala, Buta Singhwala, Pavala, Abrawan,Rajomajra,Hulka and Changera were the villages which reported a voting percentage of 70-80 per cent, official sources informed. Lalru(73 per cent) and Dera Bassi(70 per cent) also reported good voting percentage. However, the figures for some villages was much higher with Malikpur(86 per cent), Dharamgarh(82 per cent), Tasimbli(88 per cent) and Handesra(85 per cent) reporting high percentage.

And in Rajpura, where the sitting MLA, Mr Raj Khurana of the BJP-SAD alliance is pitted against Mr Hardyal Kamboj of the Congress, as many as 769 out of 1060 voters had cast their votes in Kherpur Jattan by 4 pm. In NTC School in Rajpura, 503 voters out of 887 had voted in booth no 111-A by 4.30 pm. Another booth recorded 514 votes out of 916 voters.