The news that Mukesh Ambani is aspiring to build a bomb-proof and earthquake proof bungalow in Mumbai has aroused public curiosity if construction of such a building is possible. The buildings constructed in India and the world are always termed as "Earthquake resistant" and never as "Earthquake proof".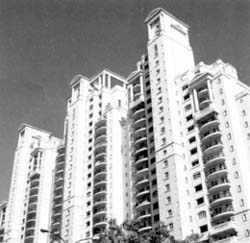 However Ambani wants his house to be earthquake proof. He has hired James Young, an architect in Singapore, to do the job for him. His multi-storeyed dream house is also supposed to have a helipad on its roof.
After World War II, the desire to have a bomb proof house has raised its head many times. Prohibitive cost of construction has been a major hurdle in its fulfilment.
Increased terrorism around the world has also been necessitating the existence of an affordable and manageable bombproof building system for the protection of military structures, strategically sensitive areas such a power plants and skyscraping commercial centres.
When Ambani is planning to spend a whooping Rs. 120 crore on his dream house, it can certainly become a reality.
Simplest idea during World War II times to save oneself from the attack of a bomb was to build a room in the basement with extraordinarily thick concrete walls.
Therefore, building 700 mm thick RCC walls around a house, avoiding use of bricks which act as deadly missiles during bomb attacks and designing a building to withstand six times the normal wind load can look to be a solution for possible protection from a bomb but not practicable at all. An alternative has to be there.
Tricorn Technology Ltd., London, a company that has initiated and participated in the development of blast proof and bombproof technology for security purposes has developed a polymer compound that can help in construction of bombproof houses.
The compound is a combination of gypsum and some polymers. Patented as PMG, it can certainly help in bombproof construction and in protection of personnel and buildings against bombs, blast and projectile damage.
Gypsum has been used in the construction industry for hundreds of years. It has good fire resistance and sound absorption properties besides being low cost and easy to repair. Its weakness is its susceptibility to water penetration and poor weather resistance.
Tricorn has developed some plastic polymers to greatly increase gypsum's resistance to water and weather without losing its inherent qualities. By combination of gypsum with these plastic polymers, PMG has been developed by this company.
Polymer Modified Gypsum (PMG) has been found to be having excellent water resistant capabilities. It has also been found having natural and chemically gentle nature which enables its use as a matrix around various types of aggregates, additives and reinforcement.
The polymers used for PMG have a high degree of cross-polymer linking that in addition to providing excellent defensive capabilities also give three dimensional stability and strength to the structure.
Due to theses unique and flexible properties of PMG, it may act for state-of-the-art bombproof technology for the protection of personnel and property from terrorist bomb attacks. Not only that, it can be very easily used to bombproof any existing structures or buildings as its flexibility enables us to mould it to any shape.
Further, it has been found to be providing great resistance to nuclear, biological and chemical attacks also. PMG gains importance as there is no other material available at present that may act as a bombproof material.
Another helping material developed by the same company for defence purposes is Armorcrete. It is a low cost composite material particularly designed to withstand armour piercing bullets.
Both PMG and Armorcrete can be used in defence applications and in bombproof building construction.