Yasmin Alibhai-Brown, writer and journalist, is a fierce fighter against racism and discrimination. She is one of the thousands who had to flee home country Uganda to Britain after Idi Amin's diktat. It was tough going for her. She never felt at home in Britain and experienced racism at many levels. She was recently in Kolkata, presenting her autobiographical notes in a solo stage performance. Sonali Jha Chatterjee reports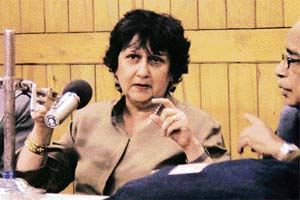 Yasmin Alibhai-Brown's widely acclaimed autobiography No Place like Home, brought out in 1995, depicts her early life in Uganda
HER petite frame, unruly curly hair and quick smile belie the fact that this lady is today one of the foremost voices against racism, gender bias and nationalism. Meet 57-year-old Yasmin Alibhai Brown, the only non-white political columnist in a mainstream newspaper, The Independent for the last nine years. Being in a rather unique position as a columnist, she thinks of it as a rather difficult position to be in as "everybody thinks you are on their side and will only represent the good side of the community. A journalist is a journalist is a journalist. Hence, what follows is a lot of clashes over opinions."
The Iraq war, feels Yasmin, has shown print journalism in its true light. It has come up in a big way and can be properly called the fourth estate, exposing the true face of political powers.
Yasmin was recently in Kolkata stealing the limelight, this time on stage performing a solo act titled Nowhere to Belong, hosted by the British Council, in collaboration with the Indian Council for Cultural Relations. Commissioned by the Royal Shakespeare Society, this performance grew out of a lecture, shaped and changed by a director over a period of six months. Most of her act finds reflection in her autobiography, spanning her years in Uganda and Britain. She admits that this show has been a defining moment in her life.
Back in school, Yasmin's teachers thought she should be an actress since she had been acting a lot since the age of five. Shakespeare always had a special place in her heart. It was while playing Juliet in school, that brought about a dramatic change in Yasmin's life. She committed the 'sin' of kissing Romeo, played by a black man, on stage. This severed her ties with her father and strained relations with the other relatives. The anguish is brought out in this performance.
Born into the Ugandan-Asian community in 1950, Yasmin belongs to the Ismaili sect. She describes her family as "a lower middle class family in Uganda. My dad did jobs and didn't, but my mother worked and supported us—later my brother`85. So we were living on borrowed time."
After gaining her degree in English literature from Makerere University in 1972, Yasmin left Uganda for Britain in June that year, to pursue M.Phil at Oxford University. A couple of months later, Idi Amin issued an expulsion order that forced the mass migration of Ugandan-Asians.
This marked a defining moment in her life, and a basis for her future work involving race and identity. Her pain on leaving the only home she knew is evident when she says, "`85leaving Uganda, having to make a new life in Britain, realising it was my home but it was not my home, having children in a country where they'd belong much more than I would ever will. I have been constantly fighting and arguing with my new country."
Very simply, she calls herself 'a philistine'. Britain has changed a lot since she arrived but she finds much of the British attitude remains the same. "In Britain", she says, "it's important to know who is British and who is not. The subtleties are always there."
Yasmin worked as a teacher for more than 10 years. She then moved on to working with refugees, teaching them language and survival skills. She admits that she always had a strong passion for the dispossessed. At 35, she embarked on a career as a journalist and has been going strong for the past 22 years. She has written for The Guardian, New Statesman, The New York Times, and Newsweek, amongst others. She has worked on numerous radio and television programmes, producing documentaries for Channel 4 and the BBC.
Her widely acclaimed autobiography No Place Like Home, in 1995, shows the dichotomy of her early life in Uganda. She agrees that unlike in South Africa where the people worked together against apartheid, "in east Africa, we had a split personality". On the one hand, "we loved Gandhi and Nehru and were happy that India was independent`85 but we also cried when Uganda became independent". She calls her kind 'rather schizoid'.
In 1999, Yasmin published True Colours, which dealt with political leadership and their attitude to racial minorities. It called on the British government to be proactive towards combating racism. She was therefore amazed to receive a call from the PMO telling her that the Prime Minister would like to launch her book, and so it was.
Some of her works include Who Do We Think We Are: Imagining the New Britain, After Multiculturalism, The Colour of Love: Mixed Race Relationships, Mixed Feelings and Some of my Best Friends Are. She has won several prestigious awards including the BBC ASIA Award for Achievement in Writing 1999, the Commission for Racial Equality Special Award for Outstanding Contribution to Journalism 2000, EMMA Media Personality of the Year 2000 and the George Orwell Prize for Political Journalism 2002.
In India, she is saddened to see that like Britain, here too there is a sense of deference among people for the rich. But her heart leaps up with joy on seeing school students here because she says they know how to behave. In Britain, they behave, dress and talk very rudely. Yasmin feels her 13-year-old daughter would gain a lot if she were to study in India.
She is currently working on a historical food memoir beginning on the Malabar coast. It is through the journey of food from 60 AD that Yasmin will be looking at the migration of people from Gujarat and Kutch who were taken as indentured labourers to Africa and the rest of the world. — TWF