Artists in their own RIGHT
Old cars are vanishing and so are the people who can maintain them. Ravipal Singh Mann's ode to the known and unknown men...
An amazing eye for detail, out of the box thinking and the ability to improvise make them the Man Friday for every vintage car owner in the region. As they say, it is easy to buy an old car, but maintaining it is the difficult part! But this diminishing tribe ensures the graceful ladies keep rolling down the roads. Balbir Singh, an electrician in Sector 17, is a wizard at the electrical aspect of cars. Older cars have the six-volt system. Since spares of this system get harder to come by these days and call for specialized skills, electricians opt for conversion to twelve-volt.
MATKA CHOWK
Not just MELAS
Chandigarh winters are marked by exhibitions. On winter days and windy evenings, exhibitions are a nice escape, especially since you never know what you might find! A lot of them are held in the dusty maidans. Some of them have too may jars of pickles and vegetable cutting gadgets and hardly anything else. Some of the fairs are so crowded that the feat of walking around requires an oxygen mask. Some have an awful lot of hideous sweaters or bizarre books on meditation.
Balle balle for Bhangra babe
Ten years after she first saw the rythmic dance, Katharine's back to learn it
Smriti Sharma
Katharine is like any Indian, is a complete Hindi movie buff, but it was her love for Bhangra, which brought her to India. Coming from Australia, with her family in toe, including a 9-month old baby boy, a seven – year old daughter and her husband, Katharine is learning to jive with the Bhangra beats.
The weave divine
Esscence of Andhra comes alive comes alive at Panchayat Bhavan
Anuradha Shukla
It is not just another exhibition. It's a collection of the heritage of the beautiful land of Andhra Pradesh brought to the city by the AP Handicrafts Development Corporation. For those who want to wear Indian, made by Indians, the exhibition boasts of a range of fabrics. And the very artisans who wove them are here to sell them too.
Coffee with Mocha
Smriti Sharma
Winter is about to say goodbye, how about a cuppa' of hot Kenyan coffee with beans procured straight from the Kenya, a Toblerone Shake or Choco-Avalanche – a combination of chocolate mousse, layers of thick chocolate syrup and lots of chocolate scoops or may be Vertigo- a four layered dense gooey chocolate, tempted already?
HERE COMES THE HOTSTEPPER!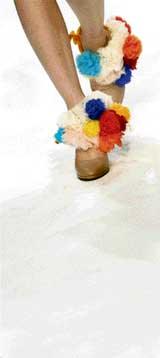 A model walks a creation by design students during London Fashion Week.
BOARD MANTRA
Know yourself
With exams around the corner, February is tough on students. Stay calm and collected and you'll sail through, says Renee Singh
As the Board exams come closer, children and parents tend to panic. In every child's life span some periods are pleasurable and others stressful. But surely we have to learn new skills to deal with each new period. Right now, confidence is of utmost importance and is the major skill to learn. It means being sure of your self worth, being competent to know how to deal with the situation and responsibility would mean knowing how to prioritise and take decisions accordingly.
READERS WRITE IN
Our love story
For Ratna and K. Sridharan it is love till eternity
We studied together in the same school, same class. He gave me a surprise gift on my birthday in Class 10, which I diplomatically refused to take! Being reserved and shy, my nature didn't permit me to be friends with boys. Then we went on a class picnic on February 9, 1991 where he melted my heart by writing I Love You in red... I began reciprocating his feelings. Our courtship continued through school and college, even though I was in a girls' college, till we got married in July 1999!
Strings of emotion
S D Sharma
"With it's inviting depths explored in various streams of music, like folk, devotional or contemporary popular music, the Indian classical music has many diverse cultural contexts," says Asghar Hussain, the young violin virtuoso of the Delhi gharana.



Apache returns with Sadhu


Riot of colour


WRITE TO RENEE
Drop negativity
---