Elderly don the Valentine spirit
Tribune News Service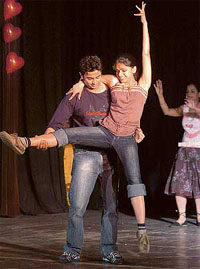 A scene from the Valentine function held for senior citizens at Tagore Theatre, Chandigarh, on Sunday. — A Tribune photograph
Chandigarh, February 18
For once, there was some sparkle in store for senior citizens of the city who gathered at Tagore Theatre in huge numbers to see some of their own participate in a unique and interesting show. The occasion was a Valentine bash for the elderly and the spirits were high, really high.
A major part of the show was put together by members of Jajobars -- a group of youngsters who have vowed to make the lives of their grandparents happy and fun-filled. So here they were -- acting, dancing, singing and making a success of the show which they aptly titled "Mohabbat ke Manzar".
The genesis of the show was simple, as convener of Jajobars Gurjot Shan put it: "We wanted the show to be exhilarating and special. So we decided to do it our way. It was all about putting together bits and pieces of an elderly couple's life."
And it really turned out in interesting shades. The crux of the show was -- love in the life of elders. And this simple but beautiful fact was shown by way of a film in which Ms and Mr Birinder Pannu from the city acted. Sans frills and froth, the film concentrated on the minutest details of the couple's lives -- how they grew up, where they went to school, what their college days were all about, how they met and how they finally fell in love. The bliss of matrimony was also showcased in the film that ran on the projector as the young members of Jajobars enacted the truths of the elderly couple on stage.
They improvised the sequences well. So when you had the couple talk about their college days on screen, you had the youngsters appear on stage to put together the sequence from college days. The extravaganza was simply ingenuous and the gathering seemed to enjoy every bit of it.
By the end of the show, the valentine spirit was reigning supreme at the venue and one could actually overhear the elderly recall their old times in hushed tones. They seemed eager to declare that they too "were (and are) in love".