PUNJAB

HARYANA

JAMMU & KASHMIR

HIMACHAL

REGIONAL BRIEFS

NATION

OPINIONS

MAILBAG

BUSINESS

SPORTS

WORLD

ADVERTISEMENT
Monday, February 19, 2007, Chandigarh, India
Updated at 3:00 am (IST)

UP imbroglio
Sonia calls CWC meeting today
New Delhi, February 18
Having raised the pitch on the dismissal of the Mulayam Singh Yadav government and faced with strong objections from its allies, Congress President Sonia Gandhi has called a meeting of the party's working committee tomorrow for an internal brainstorming on the Uttar Pradesh imbroglio.



Editorial: Slender is the thread
Mulayam Singh blames it on foreign powers
Lucknow, February 18
Chief Minister Mulayam Singh Yadav has alleged pressure being mounted by "foreign powers" behind the demand for the dismissal of his government.


CAST YOUR VOTE
Should President's rule be imposed in UP?

ADVERTISEMENT
ADVERTISEMENT
ADVERTISEMENT

CHANDIGARH

LUDHIANA

JALANDHAR
New

DELHI

HIMACHAL PLUS
New

AMRITSAR PLUS

LIFESTYLE
New

BRIDES WANTED

GROOMS WANTED

OTHERS

HOW TO PLACE ADVTS
Amend Article 356: CPM
New Delhi, February 18
As political uncertainty over the imposition of President's rule in Uttar Pradesh continues, the key ally of the UPA coalition, the CPM, today demanded amendments in Article 356 to prevent its arbitrary usage.

'A cure for a bad govt is not the imposition of Article 356.'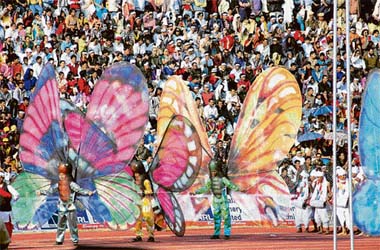 Artistes perform during the closing ceremony of the 33rd National Games at Indira Gandhi Athletics Stadium in Guwahati on Sunday. — PTI photo (Details on Sports page)
Ratlam: 48 more bones dug out, 2 held
Ratlam (MP), February 18
A day after the remains of newborns and foetuses were found at a missionary hospital here, more bones were dug out from the vicinity today even as two persons, including the Superintendent of the facility, were arrested.
Sonia's rally: Man with pistol held
Haldwani, February 18
Thousands of Congress supporters were disappointed after impregnable security forced them to stay outside the M.B. Degree College ground, the venue where Congress President Sonia Gandhi addressed a mammoth rally during last leg of her election tour of Uttarakhand.


In video (56k)



India: The Tasks Ahead
SPECIAL SUPPLEMENT
125TH ANNIVERSARY CELEBRATIONS,
INAUGURAL SESSION




HOROSCOPE

India, Pak to sign pact on N-risk
New Delhi, February 18
In a major confidence-building measure, India and Pakistan will sign an agreement to reduce the risk from accidental use of nuclear weapons on Wednesday.

IAF to acquire BVR missiles
New Delhi, February 18
To maintain its unchallenged dominance in beyond visual range combat in the South Asian region, the IAF has embarked upon a major plan to acquire longer range air-to-air missiles.


A woman and other passengers show pictures of their missing relatives from a bus window in Srinagar on Sunday before leaving for New Delhi.
— Reuters photo
Saif Ali in hospital with chest pain
Mumbai, February 18
Bollywood star Saif Ali Khan was tonight admitted to Leelavati Hospital after he experienced chest pain.
Monday Special
'Runaway grooms' of Tamil Nadu
Chennai, February 18
The "runaway groom" syndrome is not confined to Punjab. A substantial number of NRI Tamils successfully settled all over the globe also suffer from this syndrome.

E - Revolution 2005:
A Two-day IT conclave

Assembly Elections - 2005

Turbans

Chandigarh is 50

EARLIER FEATURES
Cong, Lalu want UP Govt sacked
February 18, 2007
Terrorists operating in big cities: Patil
February 17, 2007
Petrol, diesel cheaper
February 16, 2007
SC negates '03 BSP split in UP
February 15, 2007
72% outpour beats weather
February 14, 2007
Who will govern Punjab,
February 13, 2007
Fiercest poll battle ever
February 12, 2007
Kalam wants case review
February 11, 2007
J-K to probe rights violations
February 10, 2007
Beas poll put off to March 11
February 9, 2007