Manufacturing more jobs
Vishal Gulati
Careers options in engineering have increased in direct proportion to industrialisation, urbanisation and the growing presence of multinationals in India. Until recently, the branches in engineering were limited to the traditional ones. Now with newer and emerging branches to choose from, the engineering module has widened in scope and evolved significantly. New areas, such as manufacturing technology etc, have been added to the already strong repertoire.
India enjoys an edge in manpower: report
Seema Hakhu Kachru
With the emergence of a vast domestic market and relatively low-cost workers with advanced technical skills, India is on the verge of becoming a manufacturing powerhouse within the next five to 10 years. More and more multinationals are setting up manufacturing operations in India.

Careercature
Sandeep Joshi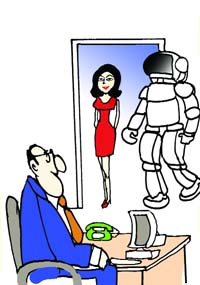 Sir, this new employee will forever obey you, won't seek a pay hike and above all, laugh at your silly jokes.

Enrolment rate of Indians studying in USA falls
Basant Kumar Mohanty
There has been a decline in the gross enrolment of Indians pursuing higher education in the US, but the country continues to be the leading place of origin for international students in America. Open Doors 2006, an annual report on international academic mobility published by the Institute of International Education with support from the USA Department of State's Bureau of Education and Cultural Affairs, states the number of Indian students decreased by five per cent in 2005-06 over the previous year.

Bits & bytes
Nobel Laureate felicitates Asian computer contest winners
IIT-Mumbai, IIT-Chennai and NIT-Trichy in world finals
IBM India has felicitated the winners from India, who qualified in the Asian regional rounds leading to the finals of the 31st ACM (Association for Computer Machinery) ICPC (International Collegiate Programming Contest) 2006. The ACM-ICPC is the oldest and the largest computer programming contest in the world, and helps facilitate the recognition of upcoming high-calibre engineering talent across the globe.

Smart Skills
Flying start
Usha Albuquerque
The flypast on Republic Day is a good time to view and admire the skills of an Indian Air Force pilot. These magnificent men in their flying machines have inspired many a young student to join this challenging career. A career which enables you to be part of the force that handles the air defence of the country.

Career Hotline
Animation track
Pervin Malhotra