Kin of victims cross over
Visa gesture thaws hearts
Sanjay Bumbroo
Tribune News Service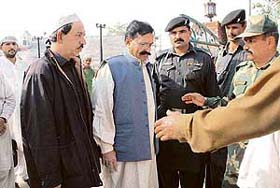 BSF officials receive relatives of the victims of the Samjhauta Express at the Wagah joint checkpost on Tuesday. Pakistani Rangers are also seen in the picture. — Tribune photo by Rajiv Sharma
Wagah, February 20
Shattered relatives of the victims of the blasts on the Samjhauta Express in Panipat crossed the Radcliff Line today hoping to see them alive. One of them was a Hindu from Lahore.
Mr Shyam Lal of Lahore said he had come to see Ramesh Kumar and Ashok Kumar, his brother and nephew, respectively, who had been admitted to the Safdarjung Hospital in New Delhi with burn injuries. He said when he came to know about the incident he immediately contacted the Indian Embassy for visa.
Mr Mohammad Mohsin of Hyderabad (Pakistan), who came to India along with his uncle, while talking to the media at the Wagah check post, said his father, mother, a sister and two brothers were killed in the ghastly incident. Wiping his tears off his swollen eyes, he said the Indian Embassy authorities were cooperative and provided them necessary information.
Lauding the role of the Indian Government for facilitating the relatives of the victims in getting visa in Lahore, Mr Ghulam Geelani of Lahore said the people of the two countries should maintain calm and defeat the nefarious designs of the disruptive forces that wanted to sabotage the ongoing peace process. He said he had been able to ascertain the whereabouts of his brother who had come to India to participate in the marriage of their relative in Delhi.
Mr Aamir Raza of Lahore also expressed similar views saying his wife Nargis Raza had come to Delhi to attend the marriage of their relative. He said as he learnt about the blast he rushed to the railway station but due to heavy rush and utter chaos there he could not get any information about his wife.
He said he learnt from a TV channel news that the Indian Embassy had made arrangements for issuing visa to the relatives of the victims.
SDM Manpreet Singh, while talking to The Tribune, said the district administration had made arrangements for ferrying the relatives of the victims to Panipat or New Delhi. Meanwhile, the BSF and the customs authorities had also made arrangements to provide refreshment to them at the check post.