M A I N N E W S
DNA of Paddar matches with kin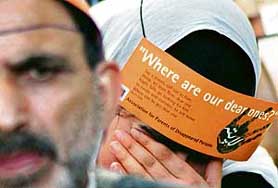 A mother of a missing Kashmiri youth breaks down after narrating her experience at a protest rally in New Delhi on Thursday. Jammu Kashmir Liberation Front leader Yasin Malik and other activists sat in dharna with parents of missing relatives at a protest rally organised by the Association for Parents of Disappeared Persons. — Tribune photo by Mukesh Aggarwal
Srinagar, February 22
The DNA mapping of Abdul Rehman Paddar, who was allegedly killed in a fake encounter by Special Operations Group of the police in Jammu and Kashmir, has matched with his relatives, a senior official said today.
"We have received the DNA test result of Abdul Rehman Paddar which is positive," DIG Farooq Ahmad, who is heading the special investigation team (SIT), probing the alleged fake encounters, said.
He said the team had so far received the result of only one DNA test from the Central Forensic Science Laboratory, Chandigarh, while the results of DNA tests of four other missing persons, also believed to have been killed in similar circumstances, were awaited.
The DNA test had confirmed that the body exhumed from a graveyard at Sumbal in Baramulla district on February 1 was of Paddar's.
Paddar, a carpenter by profession, was allegedly killed by the Ganderbal SOG, which dubbed him as a foreign militant, for cash rewards and promotions.
The SIT exhumed four more bodies, believed to be of Nazir Ahmad Deka, Ghulam Nabi Wani, Shaukat Ahmad Kataria and Ali Mohammad Paddar, in the first week of February following investigations into the case of Paddar who went missing in December.
Nine persons, including seven policemen, have been arrested on the charges of kidnapping and murder of Paddar. The arrested policemen include SSP, Ganderbal H R Parihar, his deputy Bahadur Ram, ASI Farooq Ahmad Gudoo and constable Farooq Ahmad Paddar. — PTI