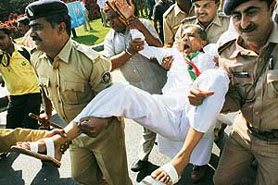 Policemen lift a Congress supporter participating in a protest rally against the ruling BJP government on the first day of the budget session of the Gujarat Assembly in Gandhinagar on Thursday. — PTI


In video: (56k)

Manu moves SC
New Delhi, February 22
The key accused in the Jessica murder case, Manu Sharma, today moved an application for bail in the Supreme Court along with his appeal against the conviction and award of life sentence by the Delhi High Court.
Bombs found in train
Bhagalpur, February 22
Fifteen bombs were today found in suitcases abandoned in a coach of the Sealdah-Varanasi Express train near Dhanauri station during intensified searches of trains in the aftermath of the Samjhauta Express blasts.
Cabinet clears senior citizen, foreign varsities Bills
New Delhi, February 22
The Cabinet today approved the Senior Citizens Bill, which provides for imprisonment to children for neglecting their aged parents.
Highest turnout in Udhamsinghnagar
Dehradun, February 22
Known as mini-Punjab, Udhamsinghnagar district of Uttarakhand, registered the maximum turnout of voters among all districts of the state in the Assembly election held yesterday.
Ayesha's kin call off search for her
New Delhi, February 22
Grief-stricken relatives of Pakistani girl Ayesha, missing since Sunday's blasts in the Samjhauta Express, were compelled to call off the search for her after spotting her scorched schoolbag with half-burnt textbooks in a gutted compartment of the train.
Rein in Andhra CM, TDP implores PM
Hyderabad, February 22
The Telugu Desam Party has demanded that Prime Minister Manmohan Singh should intervene to stop the raids against Eenadu Group and restrain Chief Minister Y.S. Rajasekhara Reddy from assaulting the freedom of the press in Andhra Pradesh.
Nitish, Paswan join hands
Patna, February 22
In what appeared to be a move of wide political ramifications, the LJP leader and a leading partner of the UPA, Union Steel, Fertiliser and Chemical Minister Ramvilas Paswan today shared a common dias with Bihar Chief Minister Nitish Kumar to uphold the cause of state's development.
Protests against Wal-Mart fizzle out
Mumbai, February 22
Protests by small traders and several left-wing organisations against the entry of Wal-mart into India turned out to be a damp squib, with only a handful of demonstrators making it to the venue in South Mumbai.
Home Minister meets Kalam
New Delhi, February 22
A day after the announcement of the Assembly election schedule in Uttar Pradesh, Union Home Minister Shivraj Patil today met President A.P.J. Abdul Kalam.
Panel plagiarised material: CSIR ex-head
Mumbai/Delhi, February 22
Eminent scientist R.A. Mashelkar was today at the centre of a controversy after admitting that the report on patent law by a committee headed by him plagiarised material, which has prompted CPM to ask the government to discard it.
Maharashtra to deploy drones to catch Naxals
Mumbai, February 22
The Maharashtra Government has decided to deploy Unmanned Aerial Vehicles or pilot-less aircraft fitted with sophisticated night-vision cameras to track down and kill Naxalites operating in the state's Gadchiroli district.
Lalu flags off Garib Rath
New Delhi, February 22
Railway Minister Lalu Prasad Yadav has indicated that more fully air-conditioned Garib Rath trains would be introduced in the next fiscal.



Videos
Water' to hit screens in India soon.
(56k)
A noble environmental mission.
(56k)