Music to ears
The Government Museum and Art Gallery is all set to introduce the audio guide system to assist visitors
Parbina Rashid
It was during my cultural transmigration when I made a major goof-up. I had gone to cover an exhibition of paintings by the legendary Sobha Singh at Punjab Kala Bhavan. After seeing the exhibits, I asked the organisers if I could meet the artist. "You are a bit late, he died in 1986," I was told. I was red-faced. But times are changing and even first-time visitors would now not need to go through such embarrassing situations. At least while visiting the major museums like the Government Museum and Art Gallery in Sector 10 and the National Gallery of Portraits in Sector 17.
Music from the soul
Unlike most classical artists the fascination for music struck an inquisitive Ragini Sarna, at the age of 14 years, when she accompanied her music aficionado father for a classical music concert in Benaras. "I was totally absorbed in the renditions by Guru Debashsish Dey evoking a unique feeling in my mind, which inspired me to seek his tutelage" recalled the 1981 born Ragini Sarna. As my guru learnt from music wizards of different gharanas, I was lucky to imbibe the best embellishments from the rich repertoire of classical compositions.
Hues of simplicity
People and Places is greatly influenced by Jaspal Singh's place of birth, Assam
Smriti Sharma
Vibrant hues, well-defined forms in bright yellows and indigo blues celebrate Jaspal Singh's latest collection People and Places. And then this humble artist likes to describe his compilation as subdued! Jaspal's tryst with watercolours began when he learnt painting as an art and perhaps this explains his bent towards the medium. Fascinated by the theme People and Places, his collection of 28 paintings is a statement in artistic simplicity.
Stone fantasies
Sculptors from across the length and breadth of the country put life into stone at Kalagram
S.D. Sharma
Ye shayar hain Elahi, ya mussavir pesha hain koi/ Naye naqshe, niraali soortein izaad kertey hain..
This couplet by Urdu poet Aatish `A0is the right introduction of the seven artists devotedly engaged in sculpting their dreams. Each one endowed with an aesthetic vision of `A0his own endeavours to pare the block of marble with an immaculate precision so that his perception finds its expression in the finished piece.
Cheers to women bartenders!
She flips the bottles with ease, juggles the glasses with élan and concocts the perfect cocktail to lift your spirits. Raise your toast to the Indian women bartenders. A male bastion until recently, bartending is increasingly becoming a popular career option for women in India.


The Science of Art
Parbina Rashid
Saurabh Narang's debut exhibition at the Government Museum and Art Gallery, which opened this week, is all about evolution. Not the Darwinian kind but the evolution of the artist as an artist. So what we see is a collection of 51 paintings, some of them evolving for the past two decades. Some showing the change in the thought process of the creator while others showing the change in the technicalities he had employed.


The artist and his works. — Photo by Pradeep Tiwari
Sibling chemistry
Smriti Sharma
They are the face of contemporary fashion in India and together this designer brother duo has been creating waves. After representing the country in prestigious Honk Kong Fashion Week three years ago, the duo is back in action. Meet Shantanu and Nikhil, all set to showcase their collection for the first time in the ongoing Patiala Heritage Festival 2007.In a tête-à-tête, the duo shares notes on some known and unknown facets of the world of fashion design.


BIG PICTURE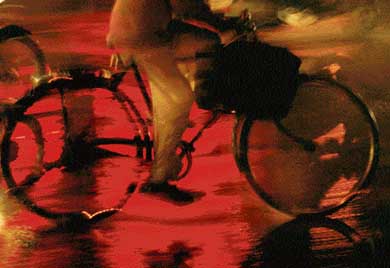 DREAM SEQUENCE: Rain and the red traffic signal roll out a red carpet and lensman Vinay Malik is quick enough to capture it!
Funny Side Up
Humour is the middle name of Chetna Vaishnavi, a microbiologist, who has authored a number of joke books
Parbina Rashid
What is common between microbiology and jokes? One would say they are poles apart. But add Chetna Vaishnavi's name to it and it becomes Jokes Apart. Yes, this is the name of the latest book by this microbiologist who has authored 11 books on different subjects.
La leather
Anuradha Shukla
leather is undoubtedly your lifestyle partner. Giving company to your feet or carrying everything important for you in a bag. The animal skin is how man began his journey towards civilisation, covering himself in leather. Civilisation may want you to move on to all things non-leather but for the true fashion conscious, the charm of the sturdy leather is indispensable.
Dreamer
Priya Gill
A small-town boy with big dreams is creating waves in the Bollywood, and so can you. With three films under his belt and appearances in TV serials, music videos, and big-budget TV commercials, Mumbai-based actor and model, Sandy Sharhaan, passing through Chandigarh, tells us how. The Patiala-born entertainer said the road ahead would challenging, but one should not give up hope.
Anoushka's a cat person
Gen-next sitarist Anoushka Shankar, here to promote the cause of animals, says she is fundamentally "a cat person". Asked which is her favourite animal, she promptly replied, "Oh cats, I have three now at home and at one time we even had 10." Anoushka, shooting for campaign by People for the Ethical Treatment of Animals (PETA), donned the costume of "a big cat - a tigress" while doing a photo session in an outfit designed by Sandeep Khosla.
YOUTH SPEAK
Soulful love
What is love and what are feelings? What do we want in life and how do we achieve it? What is wrong and what is right? All these questions and many more come to our mind. A moral compass that can help us to maintain a course in the right direction. There is an inner force, which guide us to select right from the wrong. It develops into feelings. It generates love in us which is not visible— not a physical force but a spiritual one. This is a soul. This is love.
FILM & FASHION
Kate's confession
Her curvy figure and refusal to bow down before Hollywood's obsession to stick thin actresses may have made her an idol for many women, but now Kate Winslet has admitted that once she too was under the weight reducing spell. In a revelation, which is set to dismay hordes of women who aspire to her laid-back attitude to size and shape, Winslet has confessed to using laxatives for three months to shed the pounds.
Gurus go abroad
The Sikh Art and Film Foundation and the Sikh Foundation had organised I See No Stranger: Early Sikh Art and Devotion at the Rubin Museum of Art, New York. The exhibition, which started on September 18 and concluded on January 29, showcased paintings based on Sikh beliefs, philosophy and culture.


---