Adolescent girls clubs started by an NGO are changing lives slowly,
finds Usha Rai on a tour of Jharkhand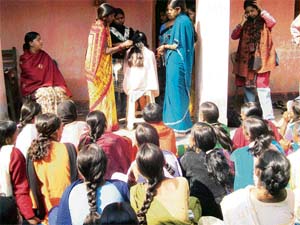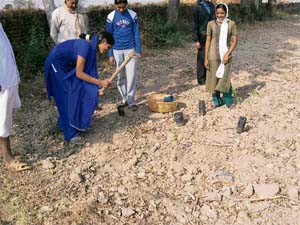 Ramakrishna Sarda Math and Mission (RSMM), is successfully administering the Adolescent Reproductive Sexual Health programmes The youth clubs and SHGs have also been linked to the horticulture programme of the government.
— Photos by the writer
Durga Kumari, Pinky and Manju are 17 years of age and members of the adolescent girls club in Katbhanga Village of Katkamsandi Block of Hazaribagh District. After joining the club and learning about Adolescent Reproductive Sexual Health, the girls decided that no member of the club would get married before 18. It was a quiet resolution taken after learning about their own reproductive health
But in September 2006, Durga Kumari's father announced that he had met a wonderful boy who had a good job with Coca Cola and Durga would marry him. Durga immediately told her mother she was not prepared to marry till she was 18 at least. Her mother spoke to her father but he was adamant. "You don't get good boys easily and in any case my responsibility for you will be over once you are married," he said.
Durga then shared her dilemma with her club members. A group of girls then approached both parents and requested them not to go ahead with the marriage. They used all the knowledge they had acquired as club members to get the parents to change their mind. It took a whole week of repeated visits to convince the parents. Durga's elder brother also supported her. Fortunately the date for the marriage had not been finalised. The father then spoke to the boy's parents and they agreed to hold back the marriage till Durga was ready for it.
A quiet battle had been won because of the collective determination of enlightened, ambitious young adolescents. Durga is determined to finish her graduation in commerce, work for a couple of years before honouring her parents' commitment. "But I will work where ever I go," she says.
Pinky is the peer educator of the village. She started the adolescents club with five members in 2003. Then the numbers swelled to 18. Three girls from the group have got married but all were over 18. At the club, where they meet regularly, they discuss a range of health issues.
Manju has done a course in tailoring and embroidery and is now doing the beautician's course. With two members of the adolescent club she wants to set up a beauty parlour in the village.
When a girl of the club gets married, she has to report back to her club on how she is using the knowledge acquired at the club`85this could be anything from use of contraceptives to a discussion with her mother-in-law on why she has not produced a child a year after marriage. This information can be shared either through a letter or on her visit home.
Girls are better at sharing confidences and their problems than the boys of the adolescent boys clubs, says Mamta of the Ramakrishna Sarda Math and Mission (RSMM), which is administering the ARSH programmes in Katkamsandi block.
But the programme has come a long way since it was started in 2003. Sadhna Kumari, 20, peer educator of Patha village, recalls how the girls of the Radha Kishori Club would hide the material on adolescent reproductive and sexual health from their parents when the club was started and material distributed.
But Sadhna has innate leadership qualities which are also being honed as a peer educator of the village. She has 25 members of 12 to 20 years in the Kishori Club. Her claim to fame is that she has motivated five women of the village who had two to four children for sterilisation. Initially nine women consented to laprascopy operations but four backed out at the last minute. In one case, the husband objected though he had four sons and in other case it was the mother-in-law who put her foot down. The women were taken to Sadar Hospital. After the successful surgery, others are approaching Sadhna for sterilisation. The young girls of the village, all members of the Radha Kishori Club are playing a stellar role in health and hygiene of the village and determining the size of families.
Sadhna is doing her intermediate in arts with maths, economics and history. After becoming a peer educator she feels she should have chosen medicine. But I can finish my arts course and do a science course that would prepare me for medicine, she says. Sadhna's mother is a school teacher, her two brothers are still studying and her father stays at home, reversing the male/female role in this traditional, still seen as backward district of Jharkhand.
The more conservative Muslim population of Katkamsani has not been left behinf. At Devura village, Afsana Khatoom, 16, is the peer educator of the village. She proudly introduces you to Hamida Pervez, also 16, who she has rescued from an early marriage and Mohammed Basit Ali, a 16-year-old peer educator of the boys clubs. Ali is equally at home with the girls and boys because in this village the boys and girls adolescent clubs meet regularly and work together on various issues.
Each club has about 25 members and on Eid and during the Chaat puja, they come out as a group to sweep and clean the roads. At village shaadis too the girls and boys come to help families. At club meetings everyone contributes a rupee and from this small but growing fund, money is found for giving birthday and wedding presents. So Babli got a diary and cake on her birthday and Gita, bangles, the henna decoration on her hands and feet and a sari on her wedding.
Since Devura is a Muslim dominated community, it was a challenge winning confidence of the community. The programme began with a meeting of parents and Mamta and Shamshad of RSMM and Afsana, the local peer educator seeking their permission to get the girls to come to the youth clubs. The difference in the way society treated girls and boys was depicted through photographs showing the different jobs being done by girls and boys. While the boys took pictures of girls at work, the girls took pictures of boys at work. The gender gap was immediately apparent and parents slowly accepted that a correction was called for.
Eighteen was the age determined for girls and earning a livelihood for boys which meant not before they were 21/22 years. It was the girl's club that interceded with Hamida's parents against her early marriage. When they would not listen to the adolescent, some of the parents of the adolescents approached Hamida's relatives.
Today girls and boys of the club go together to counsel newly married couples about delaying the birth of the first child, spacing methods and importance of nutrition and cleanliness.
The RSMM has some excellent resource material for the sexual and reproductive health and education classes. It also has games like snakes and ladders, carom and ludo for giving the right messages on HIV and AIDS, gender and health. In carom the coins have various messages on HIV and have to be hit into the right pouch on how it spreads and how it does not. In snakes and ladders, the player goes up a ladder when he hits the right message and down when he is gender insensitive.
The adolescent girls and boys clubs are affiliated to the Nehru Yuvak Kendra which has plenty of funding and sufficient projects. Sixty girls and boys were able to do the six months computer course of the NYK on a scholarship of Rs 300 a month.
The youth clubs and SHGs have also been linked to the horticulture programme of the government. In fact there is a demand for an information centre where information is provided on courses, jobs, loans etc. This is being done through the Continuous Education Centres. These linkages have ensured the sustainability of the adolescent youth programmes.