Images of Africa
Archana Shastri
African Elites in India: Habshi Amarat
Eds Kenneth X Robbins and John McLeod. Mapin Publication. Pages 224. Rs 2500.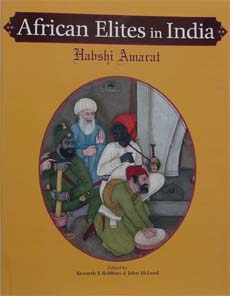 THE book is a chequered and prismatic compilation of illustrated writings by specialists in history, numismatics, architecture and art history of South Asia.
In a country given to varying shades from light to dark skin tones, identifying an African is no simple a task. With dominant cross-cultural influences, identification of an African Muslim from that of an Indian Muslim is equally challenging. The presence of Sub-Saharan Africans in India is unique, for nowhere in the world a handful of Sub - Saharan Africans ruled over non-African population for so long. References to
African elites are available as early as 14th century as reported by the Arab traveller Ibn Battuta.
The book elucidates upon the role of the Sub-Saharan Africans as merchants, soldiers, statesmen and eunuchs who rose to prominence in different parts of India between the 15th and 20th centuries, discreetly silent, however, on issues pertaining to racial discrimination and exploitation that surface with the very mention of the African slave trade.

Ikhlas Khan and Sultan Muhammad Ali Shah of Bijapur. Los Angeles County Museum of Art. From the Nasli and Alice Heeramaneck Collection
The Habshis (Arabic word for Abyssinians or Ethiopians) or Sidis (derived from the Arabic sayyidi, 'my lord') are studied in three sections. The first section deals with former slaves who rose to power in quick succession in medieval Deccan during the 15th and 17th centuries. The career of Malik Ambar, the ex-slave, whose presence irked Emperor Jehangir enough to fantasise about killing him, while the Emperor himself is poised atop the globe in a Mughal miniature, makes for a fascinating study. The artistic and architectural legacies of Malik Ambar and his contemporaries are also discussed.
The second section deals with the medieval states of Delhi, Bengal, Gujarat and Khandesh, with specific reference to numismatics and architecture, while the section three elaborates on the prominent Africans in the Mughal Empire and the succeeding princely states of Janjira and Sachin. The last three chapters on the representation of Africans, history and present status of the marginalised African population in Hyderabad and intricacies involved in identifying Africans in miniatures, more or less, conclude the process of mapping the African presence in India.
In the age of instant communication and multimedia, the simultaneity of word and image is naturally enhanced. This, in effect, has altered the general perception and influenced recent publications, such as this, in approach and layout. More often than not, the text elucidates on the well-produced visuals with an inherent narrative sequence; the tone and tenor of the book resulting in communication through visual correspondences as a tool for instant persuasion and conviction. The book unravels and traces the path of discovery, taking the reader along in the expedition undertaken—a history that engages like a jigsaw puzzle; a history that culminates into the present.