Integrated solutions
Rachna Singh
Brand Bollywood: A New Global Entertainment Order
by Derek Bose. Sage Publications. Pages 226. Rs 325.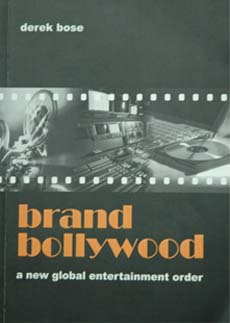 A reality show on U.K. Television turned Bollywood actress Shilpa Shetty into a global celebrity overnight. This could happen only in the techno-savvy world of today, which is heading for a multiple media fusion. Until a few years back, cinema, television, radio or the mobile phone were considered disparate media, functioning in their own separate spheres. But today, these apparently distinct media are blending seamlessly to create a new era of entertainment. This is especially true for the film industry.
Brand Bollywood is a discerning treatise on this new-age mantra of "media convergence". Derek Bose sketches in the traditional film-maker who was tied down by the "FSS" syndrome, which hinged around "maximising the box-office receipts on a Friday, Saturday and Sunday". He compares this "box-office" junkie with the modern-day "fusion' film-maker who not only holds the reigns of production, distribution, music rights et al, but also draws upon other media to sell his "product". The fortunes of this new age film-maker, therefore, do not fluctuate with a "bearish" or "bullish" box office. So, as Bose points out, movies like Kisna, Swades and Naach generate revenue through radio and television, sale of music rights, mobile ring tones and home video alternatives in spite of being box-office duds. A modern-day film-maker like Prakash Jha promotes his film Apaharan on the Internet and Rakesh Roshan rakes it in from the sale of replicas of the terrestrial "Jadoo" of Koi Mil Gaya fame. But this convergence is still in a nascent stage.
Bose makes out a strong case for cross-media integration by pointing out that although India has the dubious distinction of releasing 800 films annually as against 200 annual releases by Hollywood, its returns are abysmally low. The media convergence would ensure that a film is always a hit, albeit financially. In true "management guru" fashion, Bose also suggests a two-pronged approach to rid film industry of ills like piracy and disorganised distribution. Corporatisation of the entertainment industry and establishment of a government regulatory authority is the need of the hour. Corporatisation would instill "self-restraint and discipline in the film-making process" and allow for integration, accountability and "institutional memory of the best practices". Government regulation would protect intellectual property rights and investments and also facilitate "adoption of new technologies". Bose's road map for the future is encapsulated in his pithy conclusion, "ultimately there will be only two types of business left in the Indian entertainment industry—one that is alive and moving with the times, and the other that is dead".
Brand Bollywood is an excellent example of a well-researched dissertation on media integration. It is an in-depth and comprehensive analysis of the current and future landscape of the entertainment industry and optimistically holds out the hope of a Bollywood that could challenge the "hegemony of Hollywood". The economics of the entertainment industry with its commensurate jargon do break the lucid flow of the book, but such occurrences are few. Here is an informative book for entertainment enthusiasts.