Jodis that made it in Bollywood
Is there a formula that makes a pair click? None, whatsoever, much in the manner in which there is no formula for a hit film. Shoma A. Chatterji on a few famous hit pairs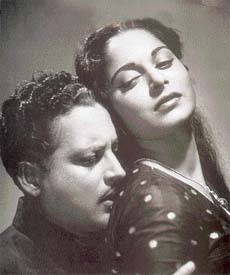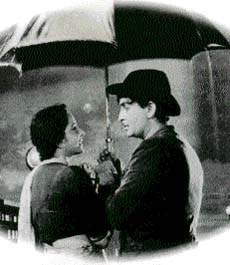 (Top) It was smouldering passion that defined the films of Guru Dutt and Waheeda Rehman,
(Bottom) while Nargis-Raj Kapoor pair created sheer romantic magic on screen.
WHAT does one mean by 'hit' pairs? It means a romantic pair that clicks on screen enough to keep the box office jingling and drive producers to repeat the pair in film after film. The definition of a 'hit' pair seems to have changed and the pair's youth is no longer a qualifying factor. Look at the thumping success of Baghbaan with Amitabh Bachchan and Hema Malini as the mellowed and married couple kept separate by their grown children. The chemistry between the pair was so tangible that one could stretch one's hand and touch it. The success of Baghbaan saw the pair repeated in Veer Zara. But unlike Baghbaan, where Amitabh-Hema shared central space, the script of Veer Zara got them 'killed off' midway through the film because it was a Shahrukh Khan-Preity Zinta show all the way.
Today, screen pairs in Bollywood do not seem to stick since Madhuri Dixit and Anil Kapoor produced a string of hits in the late 1980s and 1990s. The hit-run began with Tezaab (1988), going on through Parinda (1989), Ram Lakhan (1989), Kishen Kanhaiya (1990) and Beta (1992). What made the pair tick? Their common-man image masses could easily identify with is perhaps the reason why they ticked. The easy camaraderie, the joy and the bonhomie, the strong erotic currents that spilled over to the audience in the song number dhak dhak karne lagaa, made the pair one of the biggest hits in the history of Bollywood in the 1990s. The number of films that a pair stars in does not necessarily indicate that the pair is a hit. Anil Kapoor and Madhuri Dixit were paired in not less than 12 films for more than a decade. They produced only four or five hits. The Shahrukh Khan-Madhuri Dixit pair was together in five films only. Of these, two—Dil To Pagal Hai (1997) and Devdas (2002) became international hits.
Raj Kapoor-Nargis remain the greatest romantic duo of all time. They starred barely in five or six films together. But their electric chemistry remains unrivalled till this day. The raw passion between Raj Kapoor and Nargis in Barsaat shot with almost poetic use of light and shade drove audiences wild. The charisma continued through Andaaz (1949), Awaara (1951), Shree 420 (1955) and Chori Chori (1956.) Brilliant cinematography with backlighting and silhouetted images, the lovely songs with lyrics by Shailendra and musical score by Shankar-Jaikishen, enriched the romanticism and the sheer sexuality between the pair. Note that cinema at that time did not have the technical gizmos it now has. The Raj Kapoor-Nargis pairing far outstripped the earlier 1940s pairing of Ashok Kumar and Leela Chitnis who produced three bumper hits—Kangan, Bandhan and Jhoola.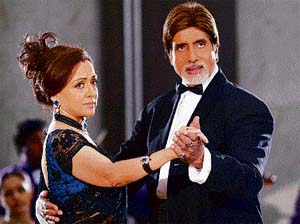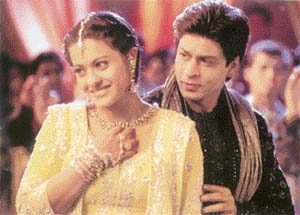 (Top) Hema Malini and Amitabh Bachchan in Baghbaan defied the notion that it was only youthful pairs that clicked.
(Bottom) the 1990s saw Shah Rukh and Kajol light up the screen with easy camaraderie and bonhomie
Intense passion, stripped completely of physical intimacy of any kind, with the solid support of cinematography, music, poetry and song, characterises the few films that featured Guru Dutt and Waheeda Rehman. Pyaasa, Sahib Bibi Aur Ghulam and Kaagaz Ke Phool are the three films that paired them together in a major way and Guru Dutt produced all three. Kaagaz Ke Phool has strong autobiographical elements structured into it. It is almost like a celluloid elegy Dutt wrote for himself with his screenplay and his images, his music and his lyrical pacing of the film. He is said to have had an intense relationship with Waheeda Rehman. It is said that his premature death by suicide was foreshadowed in the film. The film was a failure in every sense of the term. Only years later did it receive the acclaim it deserved and now it enjoys a cult following in India and other countries such as France where it was commercially released in the 1980s.
Sridevi-Jeetendra starred in many films together but did not produce more than three hits. These were Himmatwala (1983), Tohfa (1984) and Suhagan (1986.) They defined a strikingly handsome pair, backed by their graceful dancing. A better chemistry was generated by the Sridevi-Anil Kapoor pairing in three films—Mr India (1987), Lamhe (1991) and Laadla (1994).
In the Nineties, Shahrukh Khan and Kajol sent electric waves through the audience beginning with Baazigar, on to Karan Arjun, through one of the biggest hits of the last century, Dilwale Dulhaniya Le Jaayenge followed by the triangular love story Kuch Kuch Hota Hai right till Kabhi Khushi Kabhi Gum. Both Shahrukh and Kajol have been cast opposite a range of Bollywood heroes but they failed to bring across the magic as they did when paired together.
Hit screen pairs stop creating box office magic once they are married. Rani Mukherjee and Abhishek Bachchan created magic in Yuva and Bunty Aur Bubbly. We look forward to seeing more of them on screen. The now-real life pairing between Abhishek and Aishwarya raises questions. The only hit this pair has produced is Guru. Aishwarya sizzles on screen when paired with Hrithik Roshan as we all saw in Dhoom 2. But with the celluloid surgery on their screen kiss, the future of this screen pair is anyone's guess.