Saving for sales
Attraction for discount sales is so strong for some people that they actually save in advance to splurge. A lady bank employee revealed that she opened a recurring deposit which she "utilised" for shopping at discount sales. Innovative idea indeed!
Wait for results
Hyper activity on the political front prior to the Assembly elections is followed by an unusual quiet as candidates wait for the results. However, the publicity conscious are not wasting this moment too. Supporters of politicians are still active and conducting press conferences. Despite the fact that their conferences hover around allegations and counter allegations, these are the people who are keeping activity alive.
Mobile phone woes
Subscribers of mobile phone companies are a harried lot. A leading company has a high incidence of call dropping and poor call quality. People rue that since they have been using their numbers for a long time it becomes impractical and inconvenient to change numbers. Some companies, it appear, do not want to improve despite tough competition.
Truant weather
Weather is playing truant in the city considering the fluctuation in mercury. At times it starts raining which is followed by bright sunshine. Due to intermittent rain, mercury dips and the effect remains for some days. Hosiery manufacturers are thanking the weather gods as they feel their business is running well. People are at least buying stuff at discounted prices.
Power cuts
Powers cuts followed by water shortage are giving a tough time to the residents, who claim that they had never experienced water shortage this season. They are wondering what it would be like during summers. They say the power situation speaks volumes about what would be the scenario in June and July when the consumption would increase manifold.
Onions
Onions are known to bring about a change in government in India. This time also prices of onions have shot up. The election results are also awaited and residents are wondering whether this time too the issue would be linked to politics or not. After all, it remains to be seen whom the public gives its mandate.
Ice candies
While the summer is yet to arrive, sellers of ice candies have already made their presence felt on city roads. It seems it is for the first time that the ice candies are being sold in the month of February. The sellers are giving a tough time to the mothers of young children who insist on licking an ice lolly and fall sick later on.
Poor roads
Many roads in the city are in deplorable condition and require immediate attention. After the poll results the Municipal Corporation would require to spend lakhs on getting the roads repaired. That too when it would be busy in preparing the budget for the next fiscal year. Whether or not the expenditure would be taken in this fiscal year or not the public would suffer if the roads are not repaired soon.
Police clueless
The police is yet to find any clue to the alleged murder in which four of a family were killed and later on set ablaze in Aman Nagar recently. While the murder case is yet to be solved, the public is awaiting a breakthrough as the cold blooded murder gave goosebumps to city residents. Over to the police now.
Forgetful organisers
Newspaper offices receive plenty of invitations daily which are generally given to the reporters dealing with the subject. These invitations are for the event coverage or press conferences which are brief and to the point. A recent invitation by an Education Centre asked the media to cover a seminar on Australian Education. It was a lunch invitation between 1:30 pm and 2:30 pm at Hotel Country Inn but about the date, the organisers seemed not to have decided yet as it informed everything in detail but not the date!
Determination pays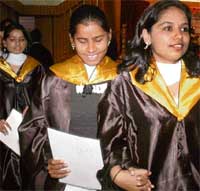 If you are determined, no one can deter you. Rajwinder Kaur is a live example of this. After successfully completing her graduation from Ramgarhia Girls College this year, the visually impaired Rajwinder Kaur is all prepared to sit for the B.Ed entrance test. Hailing from Jalandhar, Rajwinder stayed in hostel for three years. And her friends say that she is full of energy and positive attitude. She believes that disability is there in a person's mind. "If you are strong and determined no one can disturb you physically and mentally", she says.
Contributed by Shveta Pathak, Kanchan Vasdev, Jupinderjit Singh, and Shivani Bhakoo