M A I N N E W S
Fares down, freight same
We are on track to become Number 1: Lalu
T.R. Ramachandran
Tribune News Service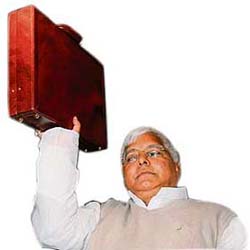 New Delhi, February 26
In a please-all budget, railway minister Lalu Prasad Yadav banked on volumes by proposing reduction in passenger fares across the board and left freight rates unchanged barring those of diesel and petrol which will be slashed by 5 per cent to check inflation.
Fares of second class in non-suburban ordinary passenger and non-superfast mail/express trains will be reduced by Re 1 per passenger while the AC first class will be 3 per cent less in the busy season and 6 per cent less in the lean season. AC 2-tier rates will be less by 2 per cent in the busy season and 4 per cent less in the lean season.
Lalu proposed reduction in fares for all classes of high-capacity new-design reserved coaches where the reduction in AC 3-tier and AC chair car will be 4 per cent in the busy season and 6 per cent in the lean season.
For the sleeper class, there would be a reduction of 4 per cent for all seasons, the minister said in presenting his fourth consecutive budget for 2007-08 in the Lok Sabha today which was drowned in the din by BJP-led NDA members trooping into the well of the House demanding the immediate extradition of Italian businessman Ottavio Quattarochi, the main accused in the Bofors kickbacks case.
The superfast charge on second class tickets will be reduced by 20 per cent from Rs 10 to Rs 8. There will be eight fresh Garib Raths and 32 pairs of new trains during 2007-08, including a weekly Indore-Amritsar Express. Among the 23 extension of trains, the Allahabad-Ambala Cantonment Unchahar Express will proceed up to Chandigarh.
Lalu said 800 coaches would be attached to popular trains and unreserved second class coaches would be increased from four to six in every train. Senior citizens and women above 45 travelling alone would be provided reservation of lower berths along with increasing the provision for special coaches for physically challenged passengers.
There would also be vendor coaches for sections frequented by milk and vegetable vendors as well as other retail sellers. Students appearing in the main written examination conducted by the UPSC and central staff selection commissions would get 50 per cent concession.
To facilitate travel by passengers, there would be countrywide train inquiry call centres (common telephone number 139) coupled with a pilot project for providing hand-held terminals to train ticket examiners in reserved coaches to update the reservation system with onboard vacancies for giving reservation to passengers at ensuing stations without delay.
He said another 300 stations would be developed as modern ones and 2007 had been declared as "cleanliness year".
On the critical aspect of safety, Lalu claimed that the number of train accidents had decreased despite substantial increase in the volume of traffic. A majority of the special railway safety fund works would be completed by next month, he said, adding that testing of an anti-collision device was in the last stages. Production of improved crashworthy coaches would be increased.
Regarding security following the recent blasts on the Delhi-Attari Samjhauti Express and last year's serial bomb blasts in Mumbai, the minister said steps had been taken to strengthen and modernise the security arrangements. Besides increasing the number of trained dogs in the existing squads, in many sesitive divisions of the country explosive-detection devices, door frames and hand-held metal detectors were being installed to provide better security for trains and passengers.
In addition, CCTV and smart video cameras, an integrated extensive security and surveillance system would be developed for the Mumbai suburban services.
About 8,000 vacant posts in the Railway Protection Force would be filled shortly on an all-India basis.
The railways was executing the ongoing national projects in Jammu and Kashmir and the north-eastern region in all earnestness.
The construction of the new line between Kakapore and Budgam in the Kashmir valley was almost complete and would be opened for passenger operations shortly.
Lalu said the railways would have a new profile in the Eleventh Five-Year Plan. A target of 1,100 MT freight loading coupled with 840 crore passengers using the network had been fixed in the terminal year of the Plan. Focus would be on doubling transport capacity and reducing the unit cost of transportation by increasing volumes.
Public-private partnership projects would play and important role. Construction of the eastern and western dedicated freight corridors at a cost of Rs 30,000 crore would commence in 2007-08 to be completed during the Eleventh Plan period. Pre-feasibility surveys were under way for the East-West, East-South, North-South and South-South corridors. High-speed passenger corridors to be constructed to run trains at more than 300 kmph.
Claiming a record-breaking performance in the first nine months of the current fiscal, the minister said freight earnings grew by 17 per cent and passenger earnings by 14 per cent. Gross traffic earnings registered an unprecedented growth of 17 per cent. Gross traffic revenues projected at Rs 63,120 crore were 16 per cent higher than the previous year and 5.5 per cent higher than the budget estimates.
The operating ratio was likely to be 78.7 per cent which was the best ever for the railways. Year-end fund balances were likely to increase from Rs 12,000 crore in 2005-06 to Rs 16,000 crore. Return on capital was set to touch a record-level 20 per cent.
In 2007-08, freight loading had been kept at 785 MT. The railways had also targeted a higher share in transportation of cement and steel to touch 200 MT by 2011-12.