Take cover in insurance
Usha Albuquerque
THE insurance stories on TV are familiar. There is the widow smiling through her tears as she gets her daughter married. Her late husband had invested in life insurance. There is also the family that is not unduly disturbed, when they return home to find all the valuables burgled. The household was insured. Or, there is the elderly father refusing the assistance of his son. He can stand on his own. All of them have the same happy ending — 'insure and be secure.'

Careercature
Sandeep Joshi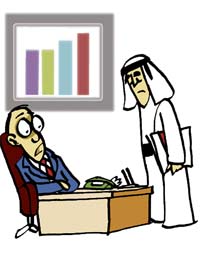 So, you are more interested in taking up a job in our company rather than taking it over.

Battalion to B-school
Defence personnel march into IIM-B for training
Jangveer Singh
Army officers, both young and old, are apparently getting enticed by the corporate world and making a beeline for the Indian Institute of Management-Bangalore (IIM-B) to acquire the necessary skills for their preferred second career destinations.

Vast opportunities for Kerala nurses in UK
Leading UK Immigration Adviser, Bison UK, feels that there are vast opportunities for Keralite nurses to work in the over 20,000 private care homes for the elderly in Britain. Thousands of nurses will retire within the next few years and by 2010, there will be a huge shortage of nurses in the UK, Bison Managing Director Charles Kelly told newsmen in Kochi recently.

Career Hotline
Realty bytes
Pervin Malhotra
Q I have been working with my father, who is a property dealer, for the last three years. I would like to study further. Can you please suggest from where I can do a formal course in real estate management in Delhi?