PUNJAB

HARYANA

JAMMU & KASHMIR

HIMACHAL

REGIONAL BRIEFS

NATION

OPINIONS

MAILBAG

BUSINESS

SPORTS

WORLD


ADVERTISEMENT
Thursday, March 1, 2007, Chandigarh, India
Updated at 3:00 am (IST)

Peanuts for Common Man
New Delhi, February 28
Devoid of the zing of previous years, union finance minister P.Chidambaram treaded the conservative path by proposing a negligible relief of Rs 1,000 to taxpayers and Rs 2,000 to senior citizens, leaving corporate income tax unchanged.

In video (56k)
7,000 cr more for defence
SNEAK LOOK AT BUDGET '07
Count your Taxes
Editorial: Only a mouth-freshner
Budget : 1% more education cess
Budget :

Farming: Mixed reaction
Budget : CPM cut motion likely
Business : India Inc despondent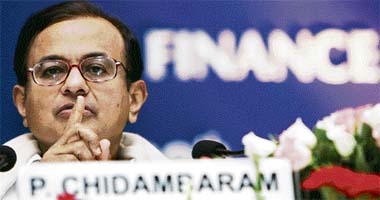 ABC of PC: Finance minister Chidambaram makes a point during post-Budget briefing. — AFP photo
CAST YOUR VOTE
Were rising prices the main reason for Congress poll debacles?




India: The Tasks Ahead
SPECIAL SUPPLEMENT
125TH ANNIVERSARY CELEBRATIONS,
INAUGURAL SESSION

ADVERTISEMENT
ADVERTISEMENT

CHANDIGARH

LUDHIANA

JALANDHAR
New

DELHI

HIMACHAL PLUS
New

AMRITSAR PLUS

LIFESTYLE
New

BRIDES WANTED

GROOMS WANTED

OTHERS

HOW TO PLACE ADVTS

Inflation stick: Sops to raise farm output
New Delhi, February 28
In a move to give an impetus to the farm sector, experiencing sluggish growth and putting pressure on stable foods, finance minister P. Chidambaram today unveiled a slew of measures to increase productivity, which could control the inflationary trend in the economy.


Twin blow for Sensex
Budget will reduce inflation, says PM
Budget a betrayal of aam aadmi: Advani
our aim is to tame inflation: PM
aDVANI, gURUDAS NOT IMPRESSED

Prime Minister Manmohan Singh

Senior BJP leader L K Advani

CPI leader Gurudas Dasgupta
Budget: Environment
Panel on climate change promised
Budget: Courts
Allocation for judicial reforms up
ADVERTISEMENT

HOROSCOPE
Badal faces a stiff farm test
Chandigarh, February 28
Rain, they say, is a good omen, but it also brings it with a plethora of problems. While the inclement weather brought cheers to the Shiromani Akali Dal-Bharatiya Janata Party (SAD-BJP) alliance yesterday, it has also set an immediate agenda for the government-in-waiting.
KEY AGENDA

Excise policy
Vote on account
Relief for farmers

Punjab page: Badal to take oath tomorrow

Poll-bender: Harsimrat Kaur, daughter-in-law of Parkash Singh Badal, touches his feet on arrival at his residence in Chandigarh from Badal village on Wednesday. — Tribune photo by Manoj Mahajan

CBI team leaves for Argentina
Armed with fresh NBW for Quattrocchi's extradition
New Delhi, February 28
Amid mounting opposition pressure on the UPA government, a two-member CBI team armed with a fresh non-bailable arrest warrant against Bofors case key accused Ottavio Quattarocchi, today left for Argentina to take up his the case of his extradition with the authorities there.


Extradition 'highly unlikely'

E - Revolution 2005:
A Two-day IT conclave

Assembly Elections - 2005

Turbans

Chandigarh is 50

EARLIER FEATURES
SAD FOR CONG
February 28, 2007
Fares down, freight same
February 27, 2007
Q's extradition: CBI team to go to Argentina
February 26, 2007
Identity check led to delay
February 25, 2007
Quattrocchi held in Argentina
February 24, 2007
Special cell on inflation
February 23, 2007
UP poll in 7 phases
February 22, 2007
Sketches of suspects released
February 21, 2007
Samjhauta terror strike kills 67
February 20, 2007
Sonia calls CWC meeting today
February 19, 2007