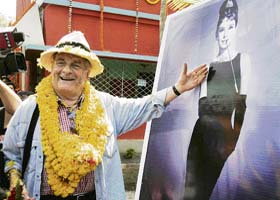 Garlanded French author Dominique Lapierre gestures to a photograph of Hollywood actress Audrew Hepburn as he attends the dedication ceremony of a school in a village of lakshmikantapur, some 40 km south of Kolkata on Wednesday. Lapierre dedicated the Bodhoday vidya Mandir school to destitute Indian children, which was financed by the money from the auction of Audrew Hepburn's iconic black dress used in the movie 'The Roman Holiday'. — AFP
Kanungo disputes order on 'Nishabd'
New Delhi, February 28
Film Director Jahar Kanungo of Bengali art film "Nisshabd" today challenged the order of the single Bench seeking directions on the stay of the Friday release of Ram Gopal Varma's "Nishabd" starring Amitabh Bachchan, on grounds of plagiarism.
Violence in court over killing of schoolteacher by cop
Kolkata, February 28
Violence erupted today inside the CJM Court at Burdwan, about 90 km from here, over the killing of a Congress worker and school teacher Tuhin Samata in police firing. Samanta had allegedly been shot by Debojyoti Saha, Katwan OC. Katwa is union external affairs minister Pranab Mukherjee's Lok Sabha constituency.
Assault on Nithari accused: 4 more lawyers identified
Ghaziabad, February 28
Four more lawyers who allegedly attacked Moninder Singh Pandher and Surender Koli, suspects in Noida killings, in a local court here have been identified by the police. With this the total number of people identified for attacking the duo on January 25 while they were being produced in the court has risen to 10, superintendent of police (rural) A.K Singh who is inquiring the case said today.
Budget
At $1b, India is major donor
New Delhi, February 28
India has come a long way from the status of a traditional aid-recipient country to a major donor country and its annual development assistance to developing countries has now reached a whopping $ 1 billion.
More funds for rural health
New Delhi, February 28
The government has proposed to increase the allocation for the National Rural Health Mission from Rs 8,207 crore in 2006-2007 to Rs 9,947crore in 2007-2008. In the second year of its implementation, the NRHM is aimed at providing accessible, affordable and reliable primary health care facilities to the poor and vulnerable sections of the population.
Chautala calls Budget disappointing
Chandigarh, February 28
Indian National Lok Dal president and former Haryana Chief Minister Om Prakash Chautala has slammed the Union Budget as being "a directionless and disappointing Budget for all sections of the society". In a press statement issued here, Chautala said people had high hopes from the Budget, but it had disappointed peasantry, traders, employees and young people.
Dog food cheap
'Pet' jibes irk Congmen
New Delhi, February 28
UPA ministers and Congress members were driven to despair today when they found themselves at the receiving end of a series of wisecracks about finance minister P.Chidambaram's decision to cut duty on pet foods as a gesture to cat and dog lovers.
Owning a dog now costly
Jaipur, February 28
Owning a dog will now become an expensive affair for the residents of Jaipur after the registration and renewal fees for pet dogs are hiked by the municipal administration and regulations made stringent.
Elavalagan, Niret get national science awards
New Delhi, February 28
Chennai-based Dr V.A. Elavalagan, film-maker Niret Alva, Bal Bhavan director Madhu Pant and author Rekha Aggarwal have been honoured with the 2006 national awards for Science and technology communication for their outstanding work in the past five years.
Indo-US JWG on terror meets
New Delhi, February 28
The Indo-US joint working group on counter-terrorism met today to discuss cooperative strategies to fight the global menace of terrorism. The US delegation, led by acting coordinator for counter terrorism Frank Urbancic met over a full day with K.C Singh, Additional Secretary for International Organisations at the Ministry of External Affairs.


Capital becomes chilly after showers
New Delhi, February 28
With the festival of Holi around the corner, fresh spells of rain and thundershowers in the Capital today brought a slight chill to the weather. Rainfall in early hours of the morning was followed by a heavily overcast sky.



The image of Parliament House is reflected in the puddle created by rains in New Delhi on Wednesday — PTI photo
Child for Nitish
Patna, February 28
"Aap mukhyamantri bane rahiye", seven-year-old, Class II student of St Joseph School of Patna, Aman, surprised Bihar Chief Minister Nitish Kumar, when he touched his feet at the airport. Nitish had then just returned from Madhepura after inaugurating a number of projects there, besides taking part at a programme at Begusarai.
Hunt on for escaped militants
Lucknow, February 28
The Uttar Pradesh Government today announced a reward of Rs 1 lakh each for anyone providing information leading to the arrest of the two Lashkar-e-Toiba (LeT) terrorists who had fled from police custody from a district court here, as a massive manhunt continued for them.
PMO imposter arrested
New Delhi, February 28
A man who conned several people by posing as an adviser to Prime Minister Manmohan Singh has been arrested here. M.V. Rao, a 75-year-old resident of South Delhi, was nabbed on Sunday on the basis of a complaint filed by the Prime Minister's Office.
2 tea estate executives kidnapped
Guwahati, February 28
Two tea estate executives have been kidnapped by unidentified gunmen in upper Assam's Golaghat district, official sources said here today. The abductors waylaid Shyamraipur garden manager R K Singh and executive R P Sharma, when they were returning from the Golaghat town yesterday, the sources said.
Maoists blow up building
Giridih (Jharkhand), February 28
CPI(Maoist) blasted an under-construction building of the state tourism department on last night at Madhuvan, about 35 km from here. There was no casualty as a group of nearly 35 extremists had dragged out the caretaker and his wife after tying them up, district police superintendent Arun Kumar told newsmen today.