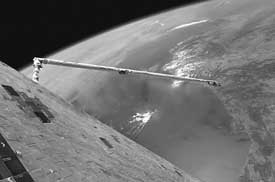 The widely publicised anti-satellite test carried out by China with the help of a ground based missile in January this year, in addition to raising concern over the militarisation of outer space, has led to worry over its potential contribution to the fast-growing space junkyard.
In fact, anti-satellite and killer satellite tests carried out by the erstwhile Soviet Union and USA during 1970s and 1980s had made an enormous contribution to the existing mountain of space debris. And according to space experts the recent Chinese test could have yielded hundreds of large fragments. Indeed, around 800 pieces of detectable debris from fragmented satellites could go up to 1000 pieces as both the space based and ground based monitoring of space activities continues without a pause.
Of course, the number of space debris that cannot be detected run into more than 10,000. "It is inevitable. A significant piece of debris will run into an old rocket body that will in turn create more debris" says Nicholas L.Johnson, Chief Scientist for Orbital debris at the National Aeronautics and Space Administration (NASA).
Interestingly, not long back China had highlighted the need for voluntary guidelines for debris control in outer space. On its part Indian Space Research Organisation (ISRO)has suggested a number of remedial measures for minimising the generation of space debris.
ISRO Chairman G. Madhavan Nair has made it plain that Chinese killer satellite test not only poses a threat to the peace in outer space but also helps increase the volume of space debris.
Meanwhile, concern is also mounting over the space activities contributing to the environmental wellbeing. In order to obviate the problem of toxic chemicals, used in rocket stages, posing a threat to the atmospheric balance, research efforts are on to develop eco friendly fuel for use in rocket stages. Of course, the worry over the space debris posing a threat to the multimillion dollar satellite missions designed for communications, weather watch and earth observation is quite palpable.
Discarded rocket stages and parts of disintegrated satellite which have piled up in outer space over the last five decades could seriously hamper active satellite missions. As it is, a tiny speck of paint from a dead satellite had in 1980s dug a pit in a space shuttle window .In this context, researchers point out that a major challenge before the global scientific community is to develop methods to detect objects smaller than 10cm in size which are capable of inflicting mission-degrading effects on satellites.
Researchers also say that many pieces of satellites continue to stay in orbit indefinitely if they attain what is called the first cosmic speed.
Only the objects that slip below an altitude of 120-150 km re-enter the atmosphere to blaze down as unidentifiable pieces on earth.
The collision hazard posed by the space debris is mainly due to the high energy impact borne out of its rapid acceleration. While most of the space junk stems from launch activities, garbage also results from satellite and meteorite collisions.
Moreover, space missions routinely dump food items and spent oxygen cylinders into space. These debris can only make space exploration difficult in coming years.
Incidentally, most of the debris lies in the earth orbit between 200 km and 1000 km.
However, the greatest concentration of the junk is to be found in the 900 km range where most of the weather watch and earth observation satellites are positioned. The space junk in low earth orbit continues to move around till the slow wear of molecular friction and gravity cause them to enter the earth's atmosphere and burn up into small pieces.
The growing junk belt in outer space is also known to be a hindrance to astronomical observation. "Space junk is already a real hazard to ground-based astronomy" says an astrophysicist.