M A I N N E W S
Amarinder & Co stay away
Team Badal sworn in
Ajay Banerjee
Tribune News Service
12 PLUS 5
Shiromani Akali Dal: 12
Ranjit Singh Brahampura
Capt Kanwaljit Singh
Upindejit Kaur
Adesh Partap Singh Kairon
Sucha Singh Langah
Ajit Singh Kohar
Manpreet Singh Badal
Janmeja Singh Sekhon
Gulzar Singh Ranike
Parminder Singh Dhindsa
Bikram Singh Majitha
Hira Singh Gabria
Bharatiya Janata Party: 5
Manorajan Kalia
Tikshan Sud
Swarna Ram
Luxmi Kanta Chawla
Master Mohan Lal
Mohali, March 2
Shiromani Akali Dal chief Parkash Singh Badal was sworn in as Chief Minister for the fourth time amid chants of "Bole so nihal" and bursting of crackers at a well-attended but disorganised ceremony at PCA Stadium here today.
The Badal-led SAD-BJP combine set a record of sorts with all 17 ministers — 12 from SAD and five from the BJP — in the Cabinet rank. There is no minister of state.
The swearing-in ceremony was boycotted by Congress MLAs. None of the 44 MLAs turned up. Nor did former Chief Minister Capt Amarinder Singh.
Badal, the 17th Chief Minister of the state, was administered the oath of secrecy and office by Governor Gen S.F. Rodrigues (retd) at 1.35 pm, but before that he had to ask the youth to maintain silence to allow the proceedings to go on.
Before the ceremony started, Badal's grandchildren touched his feet and stayed around him. The Chief Minister posed for a photograph with the kids as also children of his nephew Manpreet Singh Badal.
The ministers sworn in were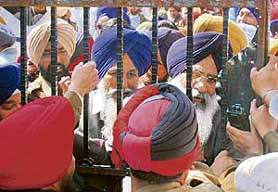 The crush at the gates. — Tribune photo by Manoj Mahajan
Ranjit Singh Brahampura, Capt Kanwaljit Singh, Upindejit Kaur, Adesh Partap Singh Kairon, Sucha Singh Langah, Ajit Singh Kohar, Manpreet Singh Badal, Janmeja Singh Sekhon, Gulzar Singh Ranike, Parminder Singh Dhindsa, Bikram Singh Majitha and Hira Singh Gabria (All Akalis). Manorajan Kalia, Tikshan Sud, Swarna Ram, Luxmi Kanta Chawla and Master Mohan Lal were from the BJP.
All ministers, except Luxmi Kanta Chawla, took the oath in Punjabi. Manoranjan Kalia was the first to be administered the oath, followed by Brahampura and Capt Kanwaljit Singh. The cabinet will include woman representatives Upinderjit Kaur and Chawla.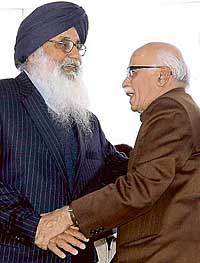 Leader of the Opposition in the Lok Sabha L.K. Advani hugs Parkash Singh Badal after the swearing-in. — Tribune photo by Manoj Mahajan
It has a mix of old and new faces. The only surprise is Bikram Singh Majitha, brother-in-law of Sukhbir Badal, a first-time MLA. The other new ministers are: Luxmi Kanta Chawla is a two-time MLA; Manpreet Singh Badal a four-time MLA; and Parminder Singh Dhindsa and Hira Singh Gabria three-time MLAs.
For Tikshan Sud, Swarna Ram and Gulzar Singh Ranike, it is an elevation. They were ministers for state in the previous SAD-BJP government.
The Majha is represented in the cabinet with seven ministers and there are five each from the Malwa and Doaba regions. There are five Hindus and 12 Sikhs. Two are Dalits. Eight of the ministers are above 60 years of age while three are above 50. The remaining six are below 50. Majitha is the youngest at 31 and Upinderjit Kaur the oldest at 67.
The crowd at the venue was a mix of urban and rural populace. It had reached at least three hours before the ceremony was to start. There were wives, daughters and relatives of the elected representatives, who had turned up in finery.
Such was the enthusiasm that each time Chief Secretary K.R. Lakhanpal announced a name, supporters of that minister raised slogans in his praise. When Manpreet Singh Badal was invited to take oath, the crowd broke into a deafening applause, while youths raised slogans. Incidentally, he started reading out the oath even before the Governor could prompt him.
Among those who attended the ceremony were L.K. Advani, Narendra Modi, Nitish Kumar, Rajnath Singh, O.P. Chautala, Vasundra Raje Scindia, Farooq Abdullah, Omar Abdullah, Sahib Singh Verma, George Fernandes, Navjot Singh Sidhu and Sukhbir Singh Badal. In charge of BJP's Punjab affairs Arun Jaitely was conspicuous by his absence.
Once the ceremony was over, the ministers were allotted Toyota Camry cars and they drove in style with escort gypsies accompanying them.