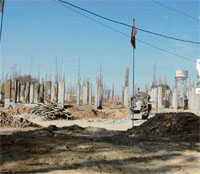 Budget baffles builders
Construction industry reads between the lines as dust settles down, says R. Suryamurthy
The booming real estate sector had hoped that Finance Minister P Chidambaram would brandish his magic wand and unleash slew of sops, which would enable the common man buy the dream house at an affordable cost. Booming economy, marred by upward curve in the inflation, might have cautioned the Finance Minister in the aam admi government to concentrate more on roti than on makaan in the Budget 07-08.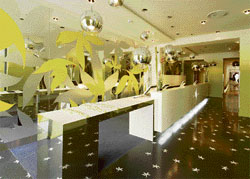 Cosy affair for hoteliers
Ruchika M. Khanna finds out that tax holiday will attract more players
Budget 2007 has brought cheers to the hospitality sector in the country. Buoyed by high growth rate, hoteliers feel that the proposals for the sector in the industry would give a new push to real estate and further their growth prospects. Five-year tax holiday for two, three and four-star hotels in the National Capital Region is set to give a major boost to the real estate business.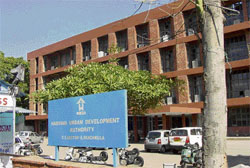 HUDA's extension directive sags prices
Speculators, allottees in a dilemma in Gurgaon, says Ravi S. Singh
The Haryana government's decision not to allow extension for more than seven years to the plot holders/owners in Haryana Urban Development Authority (HUDA) sectors for construction of houses has effected a crash-down in prices in real estate relating to residential pockets.
HUDA's policy on no extension beyond seven years has hit speculators. — Photo by Malkiat Singh
Situation ditto in Panipat
20 pc tumble in prices, says Arun Sharma
The revised extension policy of Haryana Urban Development Authority (HUDA) has hit the prices of plots in the open market hard. The prices have tumbled in the city by up to 20 per cent during the last fortnight and are bound to come down further in near future, feel real estate agents.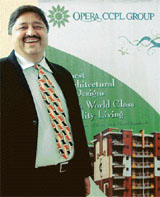 ESTATE TALK
Only the fittest will survive
The time is right to invest in real estate, Opera-CCPL chief tells Pradeep Sharma
Stability spurs the real estate market and the recessionary phase may end with the formation of the new government in Punjab. This, coupled with the expected growth in global realty, should put the real estate market back on rails bringing cheers to the investors and end-users, says Ajay Vir Sehgal of the Opera-CCPL Group.
Boom time for Hisar realty
It's boom time in the property market of Hisar and nearby areas of the region. The upswing in the prices of commercial as well as residential property is likely to continue for quite some time with a number of outsider investors targeting the city.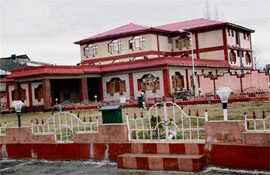 Srinagar gets marriage complex
Ehsaan Fazili discusses about a convention centre that has been a trendsetter in the Valley
A unique complex with facilities for holding different social functions mainly the marriages, cultural and political events, has come up in Srinagar's posh Sanatnagar area.

The mini convention complex or marriage hall, standing out as a unique complex. — Photo by Amin War

Banks extending repayment period
No doubt on the appeal of the Finance Minister, public sector banks have decided to hold on interest rate on home loan at current rate but keeping in view the scenario — annual closing in March 31, it is not possible for public sector banks to hold on interest of home loan. Public sector banks have been forced to rework their margins.
Greater Hyderabad with better facilities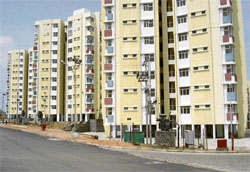 The proposed mega-project is driving up the property rates in the surrounding areas, says Ramesh Kandula
Real estate is expected to receive a boost with legal decks being cleared for the formation of Greater Hyderabad by the Andhra Pradesh High Court. It was in July 2006 that the Andhra Pradesh Cabinet had approved the creation of Greater Hyderabad and proposed to invest Rs 800 crore to strengthen the infrastructure.
A township on the outskirts of Hyderabad.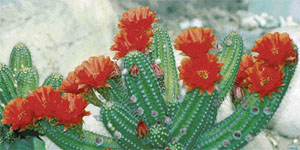 GREEN house
No dry welcome this!
Satish Narula tells about pliant trees and charming cacti that can enchant while greeting a visitor
To say it with flowers is the traditional way of conveying feelings on different occasions.
Even in the deserts, cacti are the potent signs of life and support hundreds of other lives too. — Photo by Manoj Mahajan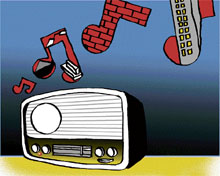 Radio jigs to realty tunes
High inflation, ever rising home loan rates and escalating property prices notwithstanding, the good old radio is smiling all the way to the bank, thanks to the advertising spends of real estate and retail companies. According to a study by marketing research firm TAM Media, advertising revenues for the radio industry crossed the Rs 500-crore mark in 2006.

Illustration by Sandeep Joshi
Opacity hits growth
Direct investments in the Asian real estate sector has the potential to grow robustly in the long term, but infrastructure and lack of transparency would pose a challenge for the global investors, especially in India, a study says.
Buzz on Bourses
Venture-funded realty firm
Bangalore: Prakash Gurbaxani, well-known entrepreneur with experience in a wide variety of industries, has announced the launch of his new venture, QVC Realty, which was stated to be the first venture-funded real estate company in India. Gurbaxani, along with 10 members, will form the core management team of QVC Realty, a company press note said.
Satra Prop to set up hotel

Nagarjuna to raise $180 m

Alfa Laval bids for Indian arm

Mantri to invest in IT parks

Aussie firm clinches deal
TAX tips
Landlord husband, tenant wife relationship untenable
By S.C. Vasudeva
Q. I am an employee of a private firm. I am receiving HRA from the company with which I am employed. I intend obtaining a receipt for the payment of house rent from my spouse who is the owner of the house so that due exemption under IT rules is allowed. Will I be taking a correct step and whether I would be allowed such benefit?