PUNJAB

HARYANA

JAMMU & KASHMIR

HIMACHAL

REGIONAL BRIEFS

NATION

OPINIONS

MAILBAG

BUSINESS

SPORTS

WORLD

ADVERTISEMENT
ADVERTISEMENT
ADVERTISEMENT
Sunday, March 4, 2007, Chandigarh, India
Updated at 3:00 am (IST)

Badal talks tough on water-sharing pact
Anandpur Sahib, March 3
In what could strain relations with neighbouring states, Punjab Chief Minister Parkash Singh Badal has said he will further amend the Act that terminated river waters sharing agreements in 2004. He also made a number of people-friendly announcements a day after being sworn in, at the Hola Mohalla celebrations here today.
give 'em more

: Punjab Chief Minister Parkash Singh Badal with minister Kanwaljit Singh during the SAD political conference on the occasion of Hola Mohalla at Anandpur Sahib on Saturday. — Tribune photo by Parvesh Chauhan
Ceasefire is only on paper, says Rajapaksa
Exclusive interview to H.K. Dua, Editor-in-Chief, in Colombo
| | |
| --- | --- |
| President Mahendra Mahinda Rajapaksa is a hard-boiled southern politician who has fought his way through Sri Lanka's politics dominated for years by the Colombo elite. | |
Happy Holi to Our Readers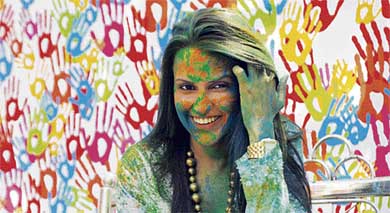 Actress Neha Dhupia smiles after celebrating Holi with schoolchildren in Mumbai. — AFP

CAST YOUR VOTE
Were rising prices the main reason for Congress poll debacles?



India: The Tasks Ahead
SPECIAL SUPPLEMENT
125TH ANNIVERSARY CELEBRATIONS,
INAUGURAL SESSION





HOLIDAY NOTICE
The offices of The Tribune will remain closed today on account of Holi. There will, therefore, be no update of the site on Monday.
* * *
The Tribune wishes its readers a happy and colourful Holi.
ADVERTISEMENT

CHANDIGARH

LUDHIANA

JALANDHAR
New

DELHI

HIMACHAL PLUS
New

AMRITSAR PLUS

LIFESTYLE
New

BRIDES WANTED

GROOMS WANTED

OTHERS

HOW TO PLACE ADVTS
PM: Pull-out speculation
New Delhi, March 3
Prime Minister Manmohan Singh today said the Indian Army was not an "army of occupation", but the reduction of troops in Jammu and Kashmir would take place only if terrorist acts ceased.

Dalits, landlords reach compromise
Saalwan (Karnal), March 3
A compromise was reached here between Dalits and landlords of the village after it was decided that people from both communities would go to a hospital in Karnal to receive the body of a Dalit youth, who was found dead on the doorstep of his house, and attend his cremation.


HOROSCOPE
'Wrong' Verdict
Judge can't be punished: SC
New Delhi, March 3
Amid questions being raised over the Jessica Lall murder case judgement delivered by Justice S.L. Bhayana before his elevation to the Delhi High Court from the post of additional sessions judge and the President recently returning the file regarding his confirmation, the Supreme Court in a significant ruling has laid down that no judge can be punished for "erroneous or wrong" judgements.
Nijjar appointed Kolkata CJ
Chandigarh, March 3
The senior-most judge of the Punjab and Haryana High Court, Justice S.S Nijjar, has been appointed Chief Justice of the Kolkata High Court. His appointment as Chief Justice has been notified by President APJ Abdul Kalam.
NSCN-IM, Centre hold talks
New Delhi, March 3
The NSCN-IM today held the first formal parleys with the Centre since top rebel leader Thuingaleng Muivah arrived in the country in December last year, and the two sides agreed to continue discussions to find a solution to the insurgency in Nagaland.


I would always back the captain. When I was leading India, I never got the team I wanted and I didn't want Rahul to go through the same. He insisted on having Sehwag and that made the difference.
— Dilip Vengsarkar,chief selector
Cool it: BCCI
It was not proper for the chief selector to make such statements. Such a remark creates unnecessary controversy before the World Cup. He should restrain from making such statements.
— Rajiv Shukla, V-P
(Details on Sports page)
In Society today

E - Revolution 2005:
A Two-day IT conclave

Assembly Elections - 2005

Turbans

Chandigarh is 50

EARLIER FEATURES
Team Badal sworn in
March 3, 2007

Mulayam's assets: CBI to probe
March 2, 2007

Peanuts for Common Man
March 1, 2007

SAD FOR CONG
February 28, 2007
Fares down, freight same
February 27, 2007
Q's extradition: CBI team to go to Argentina
February 26, 2007
Identity check led to delay
February 25, 2007
Quattrocchi held in Argentina
February 24, 2007
Special cell on inflation
February 23, 2007
UP poll in 7 phases
February 22, 2007