Bagalkot is a prosperous district in north Karnataka but prosperity has also brought in AIDS in a big way in the district because of the entrenched devadasi system. Jangveer Singh on the Bagalkot Demonstration Project, which has stepped in to rehabilitate devadasis.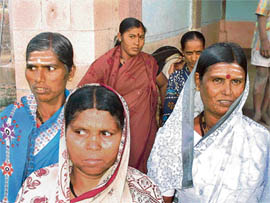 Devadasis in a village near Bagalkot.
— Photos by the writer
Travelling through Bagalkot may well be like travelling through Punjab. It is green with sugarcane, wheat and paddy growing in the fields. The construction of the Almatti dam has resulted in the creation of a new town which is neat like Chandigarh and has been accompanied by a flood of construction activity. The district, in north Karnataka, is closer to Maharashtra culturally. The average youngster has set his sight on Mumbai rather than Bangalore.
Prosperity has also brought in AIDS in a big way in the district. This is because a well-entrenched devadasi system in the region prospered in the last few decades, with girls moving to high-paying Mumbai and back. Migrants took full advantage of the luxury of cheap home-based sex without attendant law-and-order problems. This resulted in AIDS becoming the leading cause of death in adults in the area according to a report by the University of Manitoba and the Karnataka State AIDS Prevention Society. Both agencies are responsible for the present Bagalkot Demonstration Project which has intervened successfully to tackle the problems faced by the devadasis.


Madhu Naduvinamane: Making devadasis financially strong


Kalavathy: A coordinator with the Chaitanya Mahila Sangha
The project has many firsts to its credit, but what seems to be most important is the manner in which devadasis, many of them are HIV positive, have reclaimed their lives and learnt to live with AIDS. They have, through a sex workers collective, the Chaitanya Mahila Sangha, earned dignity for themselves besides working for the betterment of the community.
Kalavathy, a 38-year-old coordinator with the Sangha, is the new face of the devadasi system. Dressed in an immaculate white printed saree tucked at all the appropriate places, Kalavathy has no problem is getting herself clicked. Her journey started as nine-year-old, when she was dedicated to goddess Yellama and became a devadasi. She lost her virginity when she was 12 and had been taken to Karad in Maharashtra by an older devadasi. "I tried to defend my honour the first time a man came to me with a sickle but could do little when my mentor told me this was the only way I could support my family". Kalavathy has reclaimed her life through the Sangha. She lives with her partner in Bagalkot and has married off her daughter.
A community leader, she supervises eight educators who call upon her to troubleshoot when they are not able to convince a woman to seek treatment for sexually transmitted diseases or when there is a suspected devadasi dedication. Although the practice of dedicating girls as devadasis is banned under the Prohibition Act of 1982, such cases continue to take place. Kalavathy claims her group was able to stop 12 such dedications in the last few months because of the Sangha network among the devadasi community. "Yet there are some times when we are not successful", she says adding the job has however empowered her and made herself aware of her rights. "Earlier I felt ashamed of being a sex worker. Now I understand I had no option as my parents dedicated me to Yellama. I use the condom and I tell other devadasis to do the same. I cannot let romance cloud your judgment." Madhu Naduvinmane, another coordinator, has a similar story. She became a devadasi at 14 and was sexually abused by her first client when she was 15. With no parents who died by the time she was eight and 11 children belonging to her brother and sister to feed in the house, her sister decided she had to become a devadasi.
Madhu says the intervention in Bagalkot is unique because it has helped women in the Sangha from being exploited by the partners. "Most women used to give everything to their partners and feel cheated when they had no money for themselves when they wanted it". Giving an example of how the Sangha had "opened" the minds of the devadasis, she says the women were asked to bring their partners for a meeting.
"We asked the men to write down the names of the person they loved the most and they responded by writing down the names of their wives or children." Madhu says devadasis consider themselves to be in marriage with their partners and such reactions hurt them a lot but also help to make them more emotionally and financially independent.
The Sangha today has more than 2,000 members who have started meeting in large numbers also with Madhu organising a two day meeting last year in which one thousand devadasis participated. The Sangha today has a presence in around 200 villages in all the six taluks of Bagalkot district. Besides giving information on HIV prevention, education and empowerment, it has provided devadasis access to micro-credit through the formation of self help groups. About 40 SHGs have been formed in 30 villages with each group consisting of 10 to 16 members.
A visit to Kaldage, 20 km from Bagalkot, was a revelation of how the SHGs have changed lives of devadasis. Hema, a member, said "earlier we used to chase NGOs away as we thought they were creating an unnecessary nuisance but after the unnatural death of a devadasi in the village we understood the new problem." She says today the group has 40 members with each member contributing Rs 10 per week. She says the local cooperative bank first gave the group a loan of Rs 20,000 to purchase six buffaloes and when they started selling milk on a regular basis, gave the group Rs 40,000 more. This helped start a dairying business. Unfortunately this has not stopped the women from plying their trade. However none of the women has contacted HIV. They undergo a HIV test every second week.
Another first for the Sangha is making the children of devadasis welcome in schools in the region. "Earlier there were problems in getting children admitted to schools because of the insistence on naming the father of the child. In some schools the children were also not allowed to partake mid-day meals with other children," says Hema. All this has ended now, she adds due to affirmative action by the Sangha group at Kaladige which has successfully persuaded the gram panchayat to cement the road that runs from their houses to the main road.
"Me, my family, my street and the community have all been benefitted by the Sangha," adds Hema as we prepare to leave the picturesque village where a counter-movement against HIV is being run successfully by the very women who were partly responsible for starting it all.