'ART & SOUL
A discerning eye
Annie Leibovitz was not especially interested in photography to begin with, but she could see that in the times she was growing up in, 'the moment, the mood' mattered, and the camera was the appropriate tool to capture it, writes B. N. Goswamy
The photograph isolates and perpetuates a moment of time: an important and revealing moment, or an unimportant and meaningless one, depending upon the photographer's understanding of his subject and mastery of his process.
— Edward Weston
All photographs are accurate. None of them is the truth.
— Richard Avedon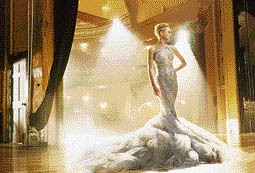 Nicole Kidman in ball gown and spotlights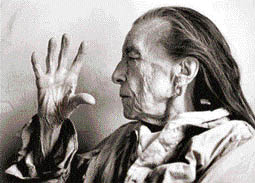 Portrait of the sculptor Louise Bourgeois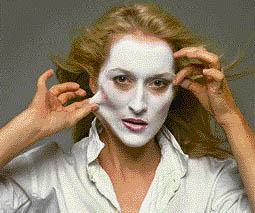 Portrait of Meryl Streep. — Photos by Annie Leibovitz
What might John Lennon, George W. Bush, Meryl Streep, Johnny Cash, Muhammad Ali, Susan Sontag, Paloma Picasso, and Michael Jordan have in common? Or, again, Jack Nicholson, Nelson Mandela, William Burroughs, Demi Moore, Joan Didion, Bill Clinton, Mikhail Baryshnikov, Nicole Kidman, and so many Las Vegas showgirls in and out of costume? Little, one would think, except that all of them have been photographed at one time or another by another American icon, the photographer Annie Leibovitz.
This enigmatic woman, arguably the most celebrated—at least the most highly honoured, and easily the most photographed—contemporary photographer in the western world has been making waves for years now. She did not come from an artistic background, nor was she especially interested in photography to begin with—having travelled from her native Connecticut to San Francisco to enrol as an art student—but she was canny enough to see for herself that in the times she was growing up in, 'the moment, the mood' mattered, and the camera was the appropriate tool to capture it.
She changed course, and even before she was 20, Annie Leibovitz had taken some stunning pictures of the pop icons of her day like Bob Dylan, Mick Jagger, Bob Marley, the Beatle, John Lennon—one of her most famous photographs, that of John Lennon, curling, unclothed, like a baby, around Yoko Ono lying on the floor, came later though—and was hired instantly by the editor of Rolling Stone, the voice of the youthful, 'happening' performing arts world. The year was 1970. For 13 years she worked for the magazine, capturing some memorable images, and imparting to it a razor-sharp visual profile in the process.
Fashion and the world of glamour continued to be at the heart of Annie Leibovitz's work for a long time: witness the fact that she was with Vanity Fair after she left Rolling Stone, and then with Vogue, bringing to both magazines some of her brassiness, her own type of movie-star razzle. But other, and graver, concerns were emerging in her mind at the same time. The portraits she shot in the years that she was shooting the world of enchanted surfaces had other things to communicate. In them somewhere is the desire to penetrate and to pierce the masks of appearance: "the faces we put on to meet other faces" as the poet put it.
There was always some wit in them, and a lingering sense of irony never left Annie Leibovitz. But she was also engaging with issues and making statements through her chosen medium. Her friendship, and later much-commented-upon intimacy, with Susan Sontag, that brilliant and provocative "Dark Lady of American Letters", whom she met for a photo-shoot, obviously had something to do with the change that was coming over Annie Leibovitz. "You're good, but you could be better" she heard Susan say to her the first time they met: deadpan fashion, she recalls.
The year was 1989. Leibovitz had gone to photograph the writer for her book Aids and its Metaphors, and was strangely nervous, for Sontag had by then achieved iconic status as an intellectual. "I remember going out to dinner with her and just sweating through my clothes because I thought I couldn't talk to her." But a friendship soon developed. Sontag's influence on Leibovitz was profound. The writer had thought a lot about photography and had written a somewhat controversial book on the subject, speaking of its corrosive role in affluent mass-media capitalist societies, and refuting the idea that photography is just a sort of notetaking.
The two travelled to Sarajevo during the lacerating war in the Balkans, and from that trip emerged one of Leibovitz's enduring images: "Sarajevo, Fallen Bicycle of a Teenage Boy just killed by a Sniper", a black-and-white photo of a bicycle collapsed on blood-smeared pavement. In the course of a trip to Alabama, Leibovitz zero-ed in on the life of the miners there, many of whom were women.
"It's a terrific story", she was later to write, recalling, "We shot a half-mile down in the mining shaft. Those women are all married. The woman on the left hand side, Shirley, told me that she had worked twenty years in the mine because she had to put her four daughters through college." Hearing all that, and seeing the kind of work they had to do, was a deeply moving experience. At the end of it, Leibovitz said in an interview, "we were all crying."
When Susan Sontag was diagnosed for cancer—she died in 2004—Annie was by her side ever so often, not only to be with her dear friend and companion, but also, with permission, to take pictures of her. Something was dying inside her, too. When it came to taking a decision about whether these pictures should be shown or not, there were agonising moments of doubt and it was only when other close friends said to her that Susan would certainly have liked these pictures to be shown, did she put them up.
Obviously, there are many aspects to Annie Leibovitz. What emerges from her work, what view one takes of it, is not easy to decide. A Polish interviewer asked her once one of those probing questions that are in themselves an answer. "I have the impression", she said, "that people are hiding in the situations you create. And I am asking myself if these are really portraits and if they are, then whose portraits are they? Of the subject, or of you, of your personality?"