Tagore deconstructed
Shalini Rawat
My Life in My Words
by Rabindranath Tagore.
(Letters selected and edited by Uma Das Gupta).
Penguin. Rs 495. Pages 395.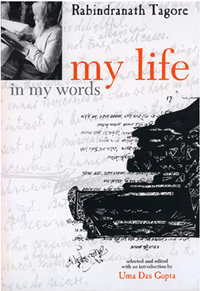 Once again I wake up when the night has waned/when the world opens all its petals once more/and this is an endless wonder. 'Bismay' Parisesh; 1932.
"Does one write poetry to explain something? Something felt within the heart tries to find outside shape as a poem. So when listening to a poem, (if) anyone says he has not understood, I am nonplussed. If someone smells a flower and says he does not understand, the reply to him is: there is nothing to understand, it is only a scent. If he persists, saying 'that I know, but what does it all mean?' Then one either has to change the subject, or make it more abstruse by telling him that the scent is the shape which the universal joy takes in the flower."
Hailed as the Renaissance Man of modern India, "discovered" by the West and honoured with a Nobel Prize for his soulful poems with a dash of the spiritual and the pastoral in them, venerated in Bengal as a painter, composer, philosopher and founder of the Shantiniketan, Rabindranath Tagore was much more than the sum of these qualities.
As per his own admission, he dismissed himself as a "poet, nothing else, no matter all the other things I may have done with my life". For most of us, Tagore is the perfect cultural icon—a simplistic construct that marginalises the far greater role he played in rural reform. His Shantiniketan is a unique prototype for the kind of education that we are yet to evolve enough to receive. Emulating his example even in today's liberated and alternative-solution-providing world would be very hard. Tagore hardly ever dated his letters. Arranging them in a chronological order would have been an uphill task for even the most devoted researcher. This epistolary venture gives us direct access to the mind of the man himself, the influences that shaped his thoughts and the thoughts that must have shaped his actions. In short, here is Tagore's Weltenschaunng in Tagore's own words.
According to him, his reformist temperament was in a large part the legacy of his father who broke away from the zamindari mould and sought rationale in religious rituals and reform in the lives of those around him. The rest of his family comprising entrepreneurs, composers and saints was the prism, growing up with whom Tagore's personality shone through in Vibgyor colours.
It is through these letters, however, that you realise that even when Tagore held the established social and political constructs of his time sacrosanct, he had a mind of his own and was fearless in expressing his opinions. For example, he was never in favour of the strategy of the political leaders of that time to beg or grovel before the foreign rulers for independence or take favours of any kind. He found Gandhiji's idea of spinning the wheel to unite a nation rather frivolous and regressive and he said it in so many words, although he had great regard for the Mahatma.
Tagore was way ahead of most men of his time in perceiving women as beings with bodies and minds of their own: "We men have been policing women for ages and we have no sense of the cruelty this involves."
The poet in him didn't make him abandon his realism. He was a champion of the idea of self-empowerment and Shantiniketan was good example of that. His love for the West and their ideals never came in the way of his patriotism as when he surrendered his knighthood after the Jallianwala Bagh massacre. He lived his life, to quote him again, as a complete man, "The complete man must never be sacrificed for the patriotic man or even the merely moral man."
Excerpts from Tagore's poems at the end of most chapters add a dainty touch to the whole affair. Take a peek. Reading another's letters was never so informative.