Hollywood Hues
Delightful comedy
Ervell E. Menezes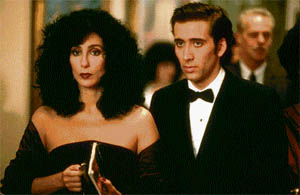 Cher and Nicholas Cage in Moonstruck
The Hollywood fare these days is so bad, you scarcely get one-in-five good films, and that too is a lenient estimate. Now it's animation films that seem to dominate. But not all of them are in The Lion King, Little Mermaid class; they are poor cousins like Garfield 2 and Open Season and at times they fall between two stools, pleasing neither children nor their parents.
So while switching channels the other night, one accidentally ran into Moonstruck, a delightful comedy, which brought Nicholas Cage into the limelight. That some of his later films were quite bad, like Captain Correlli's Mandolin for instance is another matter altogether. Opposite him but also given top billing was singer Cher who by then was already going great guns.
May be it all began with The Godfather in the early 1970s, mostly Brooklyn, depicting the earthiness and colourful lifestyle of these Latinos in the United States. Moonstruck is not just one more of them. It is easily one of the most deliciously naughty yet graphically realistic films about that much-misunderstood thing called love and its multifarious facets.
It all starts with the charming but unlucky widow Lorretta Castroini (Cher) being asked for her hand in marriage by a bumbling but good natured Latino Johnny (Danny Aielo) who has to virtually go down on his knees to pop the question. But Johnny has to go to Italy to visit his dying mother and therefore asks Lorretta to invite his estranged brother Ronny (Nicholas Cage) to the wedding. "Five years is too long for bad blood between brothers," he tells her.
But it is a mischievous moon that plays havoc with the lives of this very earthy Italian family. Everyone seems to be in love, may be not with the ones they are supposed to be in love with. There is a strange chemistry between Lorretta and Ronny. A hot-blooded baker, Ronny is capable of erupting into anger or lust with equal intensity and passion. Lorretta's dad Cosmo (Vincent Gardenia), a plumber, has a roving eye while her mum Rose (Olympia Dukakis) is still unable to fathom why men chase women. It is three generations of the Latinos with old grandpa providing the hilarity but not without a tinge of pathos.
Director Norman "Jesus Christ Superstar" Jewison has his finger on the pulse of these sensuous Italians and he portrays them with the flourish of a painter. Aided by John Patrick Stanley's scintillating screenplay, he develops his story on a number of fronts with Cher and Nicholas Cage being quite explosive as the reluctant but nonetheless passionate lovers. Cinematographer John Watkin goes to town with the visuals with the moon figuring quite prominently among them.
Cher is quite brilliant and it came as no surprise when she picked the best actress Oscar for the role. Olympia Dukakis isn't really stretched and whether she deserved the best supporting actress Oscar is surely debatable. But Nicholas Cage and Vincent Gardenia pull in their weight in gold and John Patrick Stanley definitely deserved an Oscar for the best screenplay. An excellent entertainer. Catch it on Cable or DVD.