Cinema with a purpose
The sixth international Social Communication Cinema Conference, which was held in Kolkata from February 15 to 21, went beyond escapist entertainment, reports Shoma A. Chatterji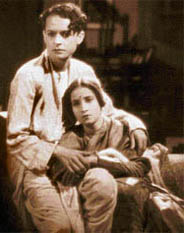 (Above) Devdas marked the beginning of cinema of social concern; and (below) the conference paid a tribute to Prithviraj Kapoor.

A popular, but badly made soap called Be Zubaan (The Folly of Living in the Past) from Pakistan, an amateurish Beyond Love from Vietnam, or Tsha Tsha from South Africa occupied major space in Roop Kala Kendro's 6th Social Communication Cinema Conference last week. There was a tribute to Prithviraj Kapoor, a tribute to New Theatres on its 75th anniversary, a retrospective of short and documentary films by Ritwik Ghatak, a tribute to Aurora Films, films of Italian great masters, films made on the Spanish Civil War, two films by French master Robert Bresson and two brilliant films from Tareque Masud of Bangladesh. Kumar Shahani was specially invited to inaugurate the conference. Diploma films by the first batch of graduates from RKK were screened too. Masud's The Clay Bird was the closing film. A unique feature of this conference is that entry to all screenings is free.
The time-span of The Clay Bird ranges between 1969 and 1971. The narrative is centred on a small boy's growing up in a Bangladesh small-town. Anu's devout father sends him off to a madrassa. As political divisions in the country intensify, a schism develops between moderate and extremist forces within the madrassa, mirroring a growing divide between the stubborn and confused Kazi and his increasingly independent wife. Touching upon themes of religious tolerance, cultural diversity and the complexity of Islam, Matir Moyna brings in universal appeal within a world torn apart by strife and religious fundamentalism.
Social communication cinema is cinema with a special purpose. It goes beyond the paradigm of escapist entertainment to lead you to introspection. It shocks you with its exposes and revelations—through documented information, docu-fiction, short fiction and television soap operas. In one sense, it might fit into the description of investigative journalism on celluloid, focussing on the truths of the marginalised and the alienated. As a logical extension of this focus, it offers a pointer to the massive apathy of the mainstream to the plight and problems of the marginalised and the oppressed.
Roop Kala Kendro was founded as a registered society under the Government of West Bengal in 1995 with the objective of (a) producing social communication cinema on video, and (b) training aspirants to this kind of cinema. In collaboration with Nandan, the state-owned culture complex, RKK organised the country's first ever-international festival of social communication cinema in 2001. This year marked its sixth birthday. How does the kendro define the 'marginalised'? "In India, by marginalised we refer to people in the small and unorganised sector, disadvantaged groups like children and destitutes, under-privileged working women, and also, groups and agencies who work with and for these people. We have increasingly felt that the lives and achievements of these people, their aspirations and struggles have been kept out of mainstream television on grounds that they do not offer entertainment value", Anita Agnihotri, former director and CEO of Roop Kala Kendro, had said.
Unlike other international film festivals, screenings were classified into three segments—broadcast, narrowcast and general screenings. Broadcast covered serials and soaps that defined passive entertainment. The general segment comprised of tributes, retrospectives, special screenings and diploma films. Narrowcast that forms the crux of RKK's focus, consisted of documentaries and short fiction that would fulfil the organisation's objective of reaching deep into the rural and semi-urban areas where the locals could interact and offer feedback. In keeping with this objective, this year, RKK had specially invited representatives from 12 out of the 18 districts of West Bengal.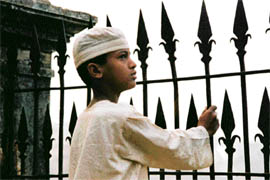 The Clay Bird touches upon themes of religious tolerance and cultural diversity
Sadly, however, the narrowcast section drew a daily average audience of not more than 25 though the section boasted of some of the best in docu-fiction made recently in the country. Among these are Shazia by Arvind Sinha, Girls Can't Wait from PSBT, Sticks of Chivalry from EMMRC, Kolkata, and Village of Dust (PSBT). Only the district representatives attended the screenings. Feature films such as Nagesh Kukunoor's Iqbal, T.V. Chandran's Kathavaseshan, Manju Borah's Laaz, Mohan Krisnha Indraganti's Grahanam, Pradip Nair's Oridam and Albert's Kanne Madanguka, among others, were screened in this segment. RKK's home productions are brazen propaganda of, by and for the state government. The Travelling Films of South Asia was absent this year.
The general segment screenings that comprised the Italian, Spanish and French masters, Tareq Masud's films and the New Theatres classics that included Devdas was the biggest draw. Devdas (1935) revolutionalised the concept of cinema into (a) cinema of social concern and (b) literature expressed through celluloid. Over time, the character of Devdas became synonymous with the name of P.C. Barua. Till today, the image of P.C. Barua, the man, is inseparable from the image of Devdas, the character he played. Devdas has been remade at different times in different languages— not less than 14 times till date. The "conference" is no longer a conference. It is a festival like any other film festival. It marks the sad demise of a good cause.