Television
Crafty designs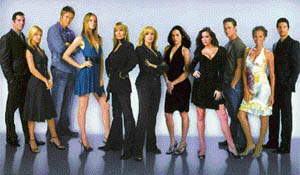 Fashion House…Greed, lust & ambition
It's all about greed, lust and ambition surrounding a leading fashion house. And one of the women behind it is none other than yesteryear stunner Bo Derek.
Fashion House, aired on Sundays 8 pm on Star World revolves around a beautiful young housewife who embarks on a journey of self-discovery after uncovering her husband's infidelity. Michelle Miller divorces her overbearing husband and takes a job at the illustrious Fashion House, while finally realising a lifelong dream of becoming a successful fashion designer.
She meets Luke, a painter, who is the son of the owner of Fashion House, and the two fall deeply in love. When Luke's mother, Maria Gianni (Bo Derek) and Michelle's ex-husband catch wind of the budding romance all hell breaks loose.
Maria will stop at nothing to kill the romance between her son and Michelle. Her countless manipulations finally push Michelle too far and fed up she turns her back on Luke and starts concentrating on her work. Soon enough she climbs her way to the top of the fashion world, while losing sight of all things that had mattered most to her in life, happiness and love.
Will Michelle become the spitting image of Maria Gianni the woman with whom she has such a hate relationship? Or will the promise of love conquer all of her fears? Watch the gripping series for answers.
Shooting star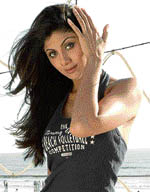 Shilpa…Inundated with TV offers
Time was, not too long ago when she was all set to pack her bags from Bollywood and re-locate on the small screen. The reason was she was being pushed to the fringes of stardom and no exciting projects were coming her way.
How times change. Today Shilpa Shetty is a gleam in the eyes of a long list of producers and scripts are being re-worked to cast her in leading films.
But the big news is that post-Big Brother some of the leading television production houses are in hot pursuit of Shilpa. There are blank cheque deals being offered for her to host reality shows.
Balaji Telefilms wants her to fire up their saas-bahu soaps whose popularity has been rapidly shrinking and she is being inundated with proposals for sponsoring products. Says an industry watcher, "If she takes up all she's being offered, Shilpa will be working 24X7 for the rest of her life!" That sure is a reversal of fortunes for a girls whom nobody wanted to cast. — NF