ULTA PULTA
Election hangover
Jaspal Bhatti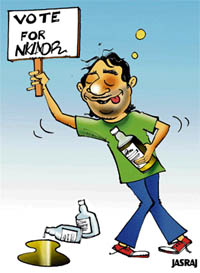 A couple of days back, I decided to give up drinking. As I collected some leftover bottles and handed them over to my servant, he started shouting, "Jeetega bhai jeetega, dariwala jeetega." I was taken aback. Surprised, I asked him what was he doing. He said, "I am sorry, sahib. During the elections I got so used to shouting slogans in favour of whoever was distributing liquor that this time, too, I couldn't help myself."
Elections are over but the hangover lingers. Electioneering habits will take some time to die. Political poets will take time to sway to romantic writings and when they pen down a romantic poem it will go something like this:
Teri zulf lehrati hai aise, teri zulf lehrati hai aise, jaise meri party ka jhanda. Tere vadon mein umeed hai aise, jaise kisi party ka agenda. Normally the Election Commission, which gets so used to giving statements everyday, starts feeling left out after the elections. In such cases, doctors advise the Election Commissioner to hire a dummy camera and issue statements to counter depression. But with the announcement of elections in UP this time, the Election Commission is very much up and about.
Probably the most important and difficult transition will be for all bureaucrats and government servants who had got used to sitting idle and lazing in the sun. Under the pretext that all funds have been utilised and under the Election Commission Code of Conduct, they would earlier dismiss all work with the plea 'Let the new government come. Only then the approval will follow'. Now these poor people will have to learn to work again.