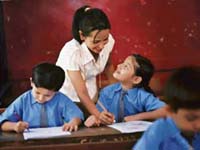 Class apart
Usha Albuquerque
This is the time, exam time and admission time, when we think of our teachers and rush to them for help. For the rest of the year, most students bunk classes, ignore teachers, and give a low rating to teaching as a career. Yet, teaching as a profession attracts large numbers of young people who look upon it as a secure professional career with shorter working hours and regular annual vacations. Teaching today is more than that. Shaping young minds and enabling them to maximise their potential is but one side of the picture.


Careercature
Sandeep Joshi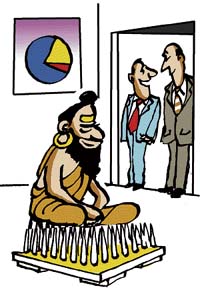 Sir, meet the new VP (Stress Management). He will teach us how to bear pain to destress.

IIM-Indore grads bag handsome packages
Foreign recruitments on the rise at IIM-K
Handsome pay packets in the range of Rs 50 lakh (international offer) and Rs 18 lakh (domestic offer) per annum were offered to the passing out batch of the country's youngest Indian Institute of Management (IIM), Indore, during placements.


Bits & bytes
"India's young workforce to give it an edge"
In the coming years, India will benefit from a huge advantage compared to other countries — a young labour force, resident director of the International Monetary Fund (IMF), Dr Josh Felman, said in Mumbai recently.
Scholarship for NRI children

Aptech starts operations in El Salvador

Brunel University announces contest

Resume: The big picture in 10 seconds
Maryann Haggerty
Antonio Levy began his career as an engineer but shifted to business and management. He has been working as an international finance consultant and aspires to a career in international development. Levy's credentials are strong and so is his resume, but it could be better, says Barbara Herzog, a career consultant.


Conversing your way through an interview
I.M. Soni
TO succeed in a job interview, you have to be a polished conversationist. An interview is a conversation for a special occasion. It needs a considered and calculated approach. You have to be poised and confident, not jittery.

UK bank may axe 600 jobs in India centre
The booming Indian call centre industry has received a jolt with Britain's largest provider of consumer loans — Lloyds TSB Group — deciding to stop all customer calls to its centre here after protests from unions and complaints from its customers in the UK.


Responding to a job searcher's SOS
Lisa Bonos
It's common to feel the pull of a help-wanted sign—not just one in a store window or on a company website, but also that plea for assistance on someone's face who senses you might be of service in a job search.


When things go wrong, executives blame it on CEOs
Indian business executives echo global trends when it comes to blaming their CEOs for the loss of a company's reputation in a crisis situation, a survey has revealed.


From contract to a regular job
R.C. Sharma
Starting out with a contractual position for a few months is one way of working in big multinational companies. Yet, employees like to continue and move from a contract to a permanent position, though very few succeed. Here are some useful tips which can facilitate your becoming a permanent employee of a reputed company.


Women's woes at the workplace
Workplaces, ranging from big offices to educational institutes, have been declared highly unsafe for women with grim tales of sexual exploitation creeping from behind the fa`E7ade of modernity, according to a study by management students in Agra town.


Career Hotline
Mapping out a career