Like parent, like children
They followed in their parent's footsteps and made a name for themselves. Was it the home environment or genes at play? Parbina Rashid attempts to find the answer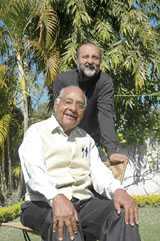 Aditya Prakash & Vikramaditya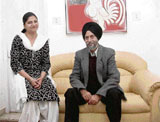 Satwant Singh & Kavita
Ever thought why a doctor's child becomes a doctor (in most cases) or an architect's kid will prefer to be an architect? Is it the environment at home that determines the children's choice of career or is it in their genes? Having no patience to sit in a library with a fat volume on genetics or environmental sciences for company, we prefer to do our own research for the city has a large number of such samples to build an indigenous data bank!
The first such household we zero in on is architect Aditya Prakash's. Aditya has been involved with the making of the city ever since it was conceptualised. His son Vikramaditya has made it big in foreign shores as a professor in the history of architecture.
It's in the air
As the conversation moves from Vikramaditya's childhood to adulthood and an enviable career at the University of Washington, we come to know that he once upon a time dreamed of becoming a writer. Was it Prakash Sr. who bullied him into becoming an architect? "No, the city itself is a big bully," pat comes Vikramaditya's answer.
But then he did grow up in the "right" environment. "I remember having regular tea or dinner sessions with architects engaged in animated discussions on Chandigarh – it was the most-happening topic back then. Though I was not formally included in those sessions, I used to sit and listen. So when I decided that I would not be able to make it as a writer, the obvious second choice was architecture."
Though Prakash Jr. describes his profession as a chakravyuh one can get into but cannot come out of, the author of Making of Chandigarh and a number of plays and articles, seems to be thoroughly enjoying being in the chakravyuh.
What about papa Prakash? Is he happy to have a follower? "I have no grudge," comes the typical reply one would expect from Aditya. But he is quick to add that Vikramaditya is the trendsetter in the family.
"The bottom line is that I am Vikramaditya's role model. I used to play cricket, so did he. I act, so does my son. I write, so does he. It is a different matter that he has outshined me!" A case of environmental impact, no doubt.
Gene pool counts
The next persons we meet are artist Satwant Singh and his daughter Kavita. Though the environment also seems to be the predominant factor here, both Kavita and Satwant subscribe to the idea of genetic inheritance too. "It is a case of fifty-fifty actually," says Satwant, describing how Kavita at age six would copy him. "And guess what? She was actually good at it," he says.
That we know. At 15, Kavita took up art seriously, working on her style in graphics. At 16, she became the youngest artist to have exhibited solo at Punjab Kala Bhavan. "I was always sure that I wanted to be an artist and once proved I was serious I got all the help from my father," says Kavita.
Though the learning process continued through the Guru-Shishya parampara, Kavita made it a conscious decision not to follow her father completely. "I am into graphics and mask-making which is totally different from my father's works," says the young artist, who is now teaching at the Department of Fine Arts at Punjabi University, Patiala. However, she admits that the environment was conducive enough to inspire her.
"We still exchange notes and discuss art. In fact, we are growing together in art," they say.
The clincher
So is it the gene pool or family environment? The arguments are inconclusive. As we look for the clinching point, the most interesting input comes from theatreperson Harleen Kohli, known for her modules in alternative education that she carries out through her voluntary organisation, CEVA.
"One can never safely say that it is genetic. Genes can remain dormant for generations but the role of the home environment is there for everyone to see," says Kohli.
Her daughter Sukhmani dropped graduation to travel and learn life practically. "I volunteer to work with CEVA whenever I am in town. Apart from that, I like designing jewellery and educating people through different creative outlets," she says. Her dream is to now make a documentary highlighting the stories of different generations.
Sounds too much like her mother. "Yes, many a time I follow in her footsteps and many a times I carve out my own path," she is quick to admit.
But then this is what Harleen had always wanted of her offspring. "I always wanted them to be open and thinking persons and the dream I have for her is that she should be a facilitator of education for she is a creative person with a good vision."
Well, in a time when every parent expects their son or daughter to score above 90 per cent, secure a seat in IIT or IIM, Harleen's dreams come across as offbeat. But we finally get our answer — Do not depend too much on your genes — if you want your children to head a certain way, create the right environment at home.