Operation Decongestion
Urban planners moot 'conservative surgery' to ease the structural clutter, Rakesh Lohumi finds out
In a belated effort to save the Queen of Hills from further degradation, the Town and Country Planning Department has come out with a three-pronged strategy, involving extension of the planning area to pave way for the development of Greater Shimla, implementation of a capital city regional plan and development of a counter magnet.
HIMA(LL)CHAL!
Baddi becomes a trendsetter as retailers make a beeline to set up malls in the entire state, writes Ambika Sharma
The industrial area of Baddi-Barotiwala-Nalagarh is all set to witness a revolutionary trend in designs, style and variety in shopping, entertainment and eateries with the advent of shopping malls. Closely following the development of industrial investment and housing colonies is a planned and organised move by the realtors to set up shopping malls. While Homeland Malls has been launched, two others are in the process of obtaining license.
Helipad, the latest fad
Jangveer Singh discovers that the chopper-on-rooftop craze is picking up in high-end Bangalore townships
Helipads have become a must-have option in new integrated townships offering high-end apartments in Bangalore. This concept is being taken up enthusiastically by prominent builders be it those who are putting up complexes in the heart of the city, or even those building on its periphery.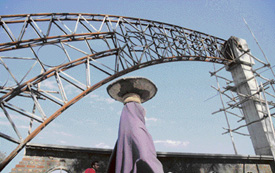 A woman labourer carries cement mixture over her head at a construction site in Chandigarh. According to a report by UN Gender Mainstreaming Project in Asia-Pacific, the Indian construction industry has inherent gender biases owing to the perceived nature of work and mainstream notion of it being a male-dominated industry. Women construction workers are trapped in a cycle of late entry, are unskilled, get low wages and are, therefore, casualised. — Photo by Pradeep Tewari
Karnal heights
Apartments get approval in historical city, reports Vishal Joshi
With the private entrepreneurs have geared up to offer the best in the upcoming residential and commercial projects, Karnal, which is otherwise considered "a sleepy township" is all set to have a new modern day look. The state Town and Country Planning Department has reportedly granted permission to at least two developers to construct residential areas on apartment basis. It is to be the first project in the district.
Venetian outing
Grand Venezia mall will soon come up in Noida, says Nalini Ranjan
With the malls coming up everywhere, new ones have to be unique to stand out. This is a great challenge for retail developers, especially those who want to make a name in their chosen business.


HOME Decor


India inspires UK designer
For British designer Tricia Guild, India inspires the main part of her vocabulary, prompting her to push the boundaries of creativity. "Inspiration from India is the main part of my vocabulary. This is what makes me push the boundaries in creating newer designs," the London-based Guild says.
Director of British interior design company Designers Guild Tricia Guild displays fabrics and wallpaper at a product launch in New Delhi. — AFP
GROUND REALTY
Look before you buy
Jagvir Goyal gives tips to house-builders on how to choose cement and steel
Cement, steel, bricks, sand and coarse aggregate are five basic materials used in raising the skeleton of a building and imparting structural strength to it. More than 50 materials are used in the construction of a building but the cost of these five itself is more than 40 per cent of the total cost of a building. Howsoever, attractive finishing materials may be, unless cement, steel and bricks are of good quality, a building loses its net worth and soon starts showing signs of distress. Utmost care should, therefore, be taken in selection of these. We will discuss the cement and steel in this edition
TAX tips
Jurisdiction decides tax on compensation for acquisition
By S.C. Vasudeva
Q. I own agricultural land in a village near Gurgaon. The same is likely to be acquired by the state government for the development of special economic zone. I am using the land for the purpose of carrying out agricultural operations. What would be the position of the compensation, which I am likely to receive on the acquisition of such agricultural land?