Mountain maiden is village pradhan
Ashu Kanwar, the young pradhan of Mahori village in Himachal talks to Roshni Johar about her plans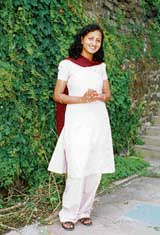 For Ashu, nothing is impossible
I intensely desire to live amidst my hill folk and serve them. My happiness lies in moral stimulation of work, in the joy of its achievement and in thrill of putting in one's best effort, not in money or fame. Nothing's impossible. If one aims at the moon, perhaps one will fall among the stars," asserts the young and energetic Ashu Kanwar, pradhan of gram panchayat Mahori village, tucked in Himachal's valleys.
A dynamic leader, Ashu is also the vice-chairman of the Presidents Association of the Theog block. An apple orchardist's daughter, Ashu's strong bonds with the locals along with the leadership qualities acquired as an NCC cadet inspired her to give her best. It was the confidence and the power to lead, which she feels she inherited from her grandfather and greatgrandfather, both lambardars, led to the outspoken Ashu to be elected as a pradhan.
A keen follower of Mahatma Gandhi's vision of gram swaraj, she quotes Rajiv Gandhi to prove her point, "Panchayati Raj is a revolution to put power in the hands of people." She opines, "India lives in villages. Panchayati raj institutions are primary units of democracy." It's her earnest endeavour to bridge the gap between the Government and the governed.
At 25, she's Himachal's youngest pradhan, having already carved a niche for her at grassroots level, fulfilling public's needs. In her eight months tenure, she's upgraded Mahori's school till plus two and, another one at Darjolidhar till middle level. In a recent medical camp, Ashu's provided wheel chairs, crutches, hearing aids, spectacles, etc. to the disabled and needy. It was this zeal to improve the lot of the villagers that motivated Ashu to attend a camp called Sanitation and Swajaldhara, a course for trainers at Nainital where she learnt repair and construction of water tanks. Roads have also been metalled in her area.
"I will soon form an NGO for the development of education, health/ hygiene, social welfare, etc. so that paharis don't have to go outside Himachal to avail of these facilties," says Ashu.
Ashu reveals, "As a child I dreamt of being a judge in a court of law but now as a pradhan, I try cases in a different kind of court." Even as a student, she couldn't stand injustice and defiantly took up cudgels for a cause and refused to take things lying down. She upholds Ahilya Bai, famed Rani of Jhansi for her courage and leadership qualities. She is all praise for her mother for sacrifice and support.
Says Ashu, "I do not wish women to have power over men, but over themselves. Remember, a society's progress is linked with that of its women. The main villain is people's mindset, regarding girls as burden. We must combat anti-women traditions by implementing the PNDT Act, empowering females through quality/ effective scientific education, health services and job opportunities that will develop their innate capacities to face future challenges.
But legislation alone cannot cure/prevent this social malaise. The Government must implement it with societal mobilisation, requiring effective administrative machinery."
Ashu has a masters in journalism too but like she admits, "Learning is a continuous process. I have a lot to learn and experience the world." Working with energy and speed, Ashu's virtually unstoppable.