A tribute to Botswanaians
Deepika Gurdev
Blue Shoes and Happiness
by Alexander McCall Smith.
Abacus. Pages 242.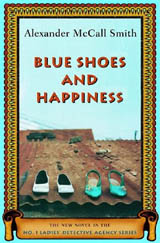 Alexander McCall Smith is back with his seventh novel in the much-loved 'The No. 1 Ladies' Detective Agency' series. And it's packed with just about everything that legions of McCall Smith fans have come to love. As the author revealed in his talk on 'Books as Friends', a reader told me she liked to read about cakes. "So there's a lot of cake—serving as well as eating."
Mma 'Precious' Ramotswe may have mysteries to solve in Botswana, but cake finds a way though her husband Mr JLB Matekoni. "Mr JLB Matekoni's weakness is cake."
If that isn't enough to make readers happy, McCall Smith again points out how seriously he takes his reader's feedback. Whether it's cake, tea, fixing cars or fixing life's problems, anything said in jest or in seriousness, all finds its way back into the author's little notebook. Speaking of the importance of maintaining that little book, he says he is quick to jot down ideas that may be used in his books in the future.
It may come as a surprise to some but 'Precious' was the name of a friend's daughter—a name he had scribbled in his note pad. Beyond the name, 'Precious' herself was inspired by the sight of a woman chasing a chicken in a farm in Botswana. It took McCall Smith 15 years from the time he witnessed that scene to the time it finally made it to the book inspiring a whole series.
Since then there has been no looking back. Now, he works almost simultaneously on the Ladies Detective Agency Series as well the Isabel Dalhousie novels, the von Igelfeld novels and the Scotland Street novels.
Not that the frenetic written activity is slowing him down. With Blue Shoes and Happiness, he proves he's still in fine form. Mysteries unravel in what turns out to be yet another hot season. Lots of bush tea is consumed as Precious Ramotswe and her assistant Mma Makutsi set themselves on the task of cracking a case of blackmail.
Lots of excitement ensues at the shared premises of the No. 1 Ladies' Detective Agency and Tlokweng Road Speedy Motors when a cobra is found in Precious Ramotswe's office. Then comes another revelation from a nurse from a local medical clinic that faulty blood-pressure readings are being recorded there. As if that weren't enough, something appears to be amiss with Aunty Emang—the advice columnist in the local newspaper. And trouble is brewing in Mma Makutsi's life too.
Then money and advice come into play as do blue shoes and happiness. Just like his earlier books in this series that will see a total of 11 books, this one too is a tribute to the spirit of the people of Botswana. As McCall Smith profoundly put it during his talk, "There are problems and there always will be, but there are also lots of people who lead lives of quality and dignity in exceptionally difficult circumstances." And it is their lives that he has chosen to talk about and chronicle.
So go ahead, read this one and become a part of an adventure that only jaded souls won't find engaging.