All for the animal kingdom
Shveta Pathak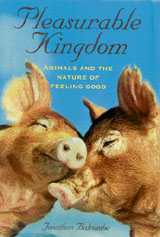 More than two decades of his love for animals translated into Pleasurable Kingdom: Animals and Nature of Feeling Good, a book Dr Jonathan Balcombee, a research scientist with the Physicians Committee for Responsible Medicine, Washington DC, is known as a pioneer in the line of thought that considers animals to be pleasure-seekers. Having earlier penned a book The Use of Animals in Higher Education, this animal rights campaigner and bird watcher, who was recently in India, is striving to better relationship between animals and human beings.
"I felt there was a gaping void in writings related to animals. Not that there is a scarcity of it, but the concept of animals as pleasure lovers was largely unexplored. In this book, I have tried to convey it to my readers that when it comes to animals its not only about not inflicting pain on them, an equally important aspect is giving them pleasure," he said during an interaction with The Tribune.
The book seeks to debunk the popular perception that life, for  most of them, is a grim struggle for survival. Food, play, sex, touch are as important to animals as to us human beings, it says. Beginning with this concept, it progresses by giving incidences in support of the same and also deals with implications of human behaviour toward animals.
Dr Balcombe seeks to reach out to a larger number of people with the concept as he feels the concept of pleasure in animals is known to us in case of animals we keep company with.  But for say, walruses, warthogs, tree frogs etc, we are not even certain that they are feeling pleasure. And pleasure signifies and entire spectrum of positive feelings, right from taste, touch to music, art and even excitement, pride and relief. Happily the situation is changing now and more people are willing to talk about it.
 This animal lover, who considers it his mission to improve human-animal relationship, has also conducted talks in various countries including India on the subject where he focuses on issues like using animals for clinical research and for eating."Research has proved that in most cases, clinical research experimentation is not needed at all. The perceived value pertaining to benefits of experimenting in particular is inflated. These issues hurt me and I hope to attain my mission by generating awareness through lectures and my writings."