Hollywood Hues
Biggest dictator
Director Kevin Macdonald churns out a populist version of history, but all credit to Forest Whitaker for doing a good job as Idi Amin, writes Ervell E. Menezes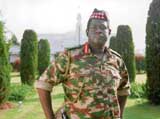 Forest Whitaker as Idi Amin in The Last King of Scotland
Take two characters, one historical and the other fictional, one a charismatic but psychopathic ruler, the other an impetuous young doctor and weave a likely story, a mix of fact and fiction. What do you get then? Well The Last King of Scotland, so titled because the ruler is Idi Amin Dada and it reflects his fondness for that highland country. That the young doctor came from that country further deepens their bond of friendship.
That the doctor Nicholas Garrigan (James McAvoy) should choose the country he worked in merely by twirling the globe and landing his finger on it only speaks of his naivety. Like quite a few Britishers, he was looking for sun, fun and may be lend a helping hand. The sequence in which the African women sing a Scottish song, "Banks of Loch Lomond" is much too much.
As for Idi Amin (Forest Whitaker), history has put him down as one of the biggest dictators. But he began with good intentions. "This will be a government of action, new schools, new roads…in my heart I'm a simple man, like you, I am you," he said to the people in his opening speech. But those were promises he did not keep. On the contrary, over three lakh Ugandans were massacred during his regime.
The movie is based on a novel by Giles Foden. The screenplay by Peter Morgan and Jeremy Brock is rather simplistic with sharp black and white contrasts, no shades of grey, but director Kevin Macdonald makes the most of this situation by churning out a populist version of history. That Amin and Garrigan should meet accidentally is the take-off point. He is at once made adviser to Amin. But can he influence that despot?
Darkest Africa has always been a kind of Shangri La for the westerners and Foden obviously has that at the back of his mind. Then he toys with history and creates a believable story though some incidents must be taken with a pinch of salt. He gets the power angle right but all credit to Forest Whitaker for doing a good job as Idi Amin. Whether he deserved the Best Actor Oscar, however, is debatable. Leonardo de Caprio was better in Blood Diamond. As for James McAvoy, he is enthusiastic at best but then the character he plays must take most of the blame.
Anthony Dod Mantle's camerawork is able to capture the romance of Africa along with its abject poverty but all in all The Last King of Scotland is at best tongue-in-cheek but it fails because it tends to shift genres.