Bowled over by the game
British cinema might not have produced films of the class of Lagaan and Iqbal, but now and then it has paid tribute to cricket. With the World Cup set to be inaugurated today, Vikramdeep Johal recalls some "pitch perfect" moments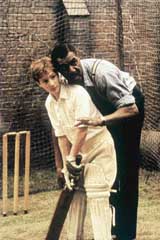 Sam Smith (left) and Delroy Lindo in Wondrous Oblivion
Hail cricket! Manly British game!" — that's how poet James Love immortalised the game in verse way back in 1744. In British cinema, it has often played second fiddle to football. A handful of movies have made references to cricket in one way or the other. Here are the most memorable ones:
The Lady Vanishes (1938): Alfred Hitchcock's comedy-thriller featured Naunton Wayne and Basil Radford as two cricket-obsessed English gentlemen, Caldicott and Charters, respectively. Travelling on a train from Switzerland to England, they were so desperate to have some news of the Ashes Test back home that they remain oblivious of the goings-on around them. When they finally reach England after surviving a shootout, they discover, much to their dismay, that the match has been washed out.
Wayne and Radford formed such a hit pair that they appeared together in several movies subsequently, including It's Not Cricket (1948), an espionage spoof in which they were cast as bumbling Army officers.
The Final Test (1953): In this Anthony Asquith comedy, Jack Warner played a star batsman who looks forward to a glorious swansong. However, he is dismissed for a duck in his final match (an allusion to the legendary Don Bradman's last Test, in which he was bowled for nought by Eric Hollies at the Oval in 1948).
Several top English cricketers of the day made special appearances, including Denis Compton, Jim Laker and Alec Bedser.
The Go-Between (1970): A beautifully shot cricket match on the village greens was one of the highlights of this Joseph Losey film, which won the Palme D'Or at Cannes.
Alan Bates played a farmer in love with an aristocrat's daughter. During the match, he indulges in some lusty hitting before being caught by the protagonist, a boy who delivers love letters for him.
The Shout (1978): The time, Bates was the scorer for a match being played on the ground of a mental asylum. We aren't sure whether he himself is sane or not as he tells the story of a man who could kill people with his extraordinarily loud shout. Polish director Jerzy Skolimowski heightens the tension by intercutting scenes from the story with shots of mentally challenged men playing cricket. The match (and the story) comes to an end when dreadful thunder and lightning strike the place.
Playing Away (1987): A team of West Indian immigrants in England is invited to play a cricket match against the Seddington village side in Suffolk. The ill-disciplined team, bombastically named Caribbean Brixton Conquistadors, manages to win despite all odds.
Wondrous Oblivion (2003): This poignant movie about race relations, set in South London during the early 1960s, stars Delroy Lindo as a Jamaican immigrant who teaches a Jewish boy (Sam Smith) in his neighbourhood the nuances of cricket. The boy's game improves by leaps and bounds, and he also develops a fascination for West Indian greats like Everton Weekes, Clyde Walcott and Frank Worrell. This is one of Lindo's best performances, right up there with his cameos in Get Shorty (1995) and The Cider House Rules (1999).
Paul Morrison's film celebrates cricket's power to break down racial and cultural barriers. There is a superb scene in which the boy's heroes, framed in photos, spring to life and applaud his sincere (but futile) efforts.
Hollywood link



C. Aubrey Smith, who led England to victory in a Test against South Africa in 1889, later established himself as a top character actor in Hollywood.
Sir C. Aubrey Smith (1863-1948) was a medium-fast bowler who was popularly known as "round-the-corner" Smith due to his slanting run-up. He captained England in their first Test against South Africa, at Port Elizabeth in 1889. His spell of 5-19 was instrumental in securing an eight-wicket victory for his team. He was also a well-known stage actor in those days, giving impressive performances in Shakespeare's plays.
Smith gave up active cricket for the movies and went to Hollywood, where he excelled as a character actor during the 1930s and 1940s. Ironically, his first Test proved to be his last.
His best-known films include Henry Hathaway's Lives of a Bengal Lancer (1935), John Cromwell's The Prisoner of Zenda (1937), Alfred Hitchcock's Rebecca (1940) and Rene Clair's And Then There Were None (1945). He was usually the first choice for the role of an authoritative English gentleman.
Despite achieving stardom, Smith's love for cricket did not wane. He made it a point not to work during the summer whenever the visiting Australian team was scheduled to play at Lord's. He made dedicated efforts to popularise the game in the USA, forming the Hollywood Cricket Club. The cricket ground at Griffith Park, Los Angeles, was named after him. He was knighted in 1944 for his contribution towards boosting Anglo-American ties.
Almost six decades after his death, he remains the only Test cricketer to become a Hollywood star.