NATURE
Apple of the eye
Kiran Narain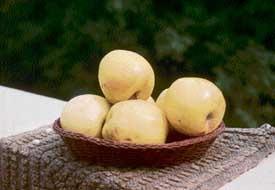 Available in hundreds of varieties, the Golden Delicious is popular the world over due to its benefits to health
The apple has a long recorded history, which may perhaps be traced to the Garden of Eden. The original parent trees grew wild in the Caucasus region of Europe. Cato, in the third century BC, knew seven different varieties of apple and, today, it is certainly the best-known non-tropical fruit, which is grown from America to India, China, Japan and Australia in addition to its original habitat.
Available in hundreds of varieties with an attractive array of colours in green, red, yellow, russet and gold, it is popular the world over due to its benefits to health being a rich source of vitamins A, B and C as also minerals like calcium, copper, iron and phosphorous.
With the liberalisation of markets, the market is full of various kinds of American, Australian and Chinese apples, these days, in addition to the Indian ones. Though the red variety attracts buyers for a few months in the beginning of the season, finally, the yellow Golden Delicious apple is the best seller because of its unique flavour, juice and long-keeping quality or "shelf-life". It is a well-known fact that the most popular American varieties viz. Red Delicious, Royal Delicious and Golden Delicious were introduced in India by late S. Stokes (1882-1946), which gradually dislodged the old varieties like quince-apple, Red French, Cox orange Pippin and Amri. But few people know about the interesting story of the American nature-bred variety, which changed the course of apple production in apple cultivating areas of the world.
In the autumn of 1903, a West Virginian farmer, Anderson Mullins, noticed a precocious apple seeding with large yellow fruits, unlike any variety seen before. He harvested a rich crop of the golden apples annually for nine years even when other trees in the orchard were barren. These kept in good condition in the cellar until April. He decided to call his wonderful discovery by the name of "Mullins Yellow Seeding."
In the spring of 1914, however, Anderson decided to send three apples out of this "new variety" to Paul Stark of Stark Brothers Nursery, Lousiana, Missouri. When Stark Brothers opened the parcel they were not very much impressed as yellow apples had never been a good attraction. Nevertheless, they decided to taste a sample and were thrilled at the unique spicy flavour.
Stark Brothers paid $ 5,000 for the original "Golden Delicious" tree. He also asked Bewel (Anderson's nephew) to keep accurate, written and photographic records, paying proper attention to any indications of weakness or decay.
Later research indicated that this chance nature-bred Golden Delicious was a seedling which grew from a "Golden Reinete", a French apple, which was pollinated by a "Grimes Golden". As humbly as this tree originated, it expired in the Spring of 1958. However, millions of progeny of this illustrious mother-tree are scattered throughout the apple-growing regions of the world including India but since yellow apples, which are not even very sweet, do not have a very big market in India and the neighbouring countries, Golden Delicious is not grown in separate orchards. However, it being a very good pollinator, it is planted in most of the apple orchards at the rate of one plant to 15 or so of plants of the red varieties for facilitating the process of pollination. The trees do not overpower other varieties of apple due to their limited growth requirement and, therefore, are a favourite pollinator with orchard owners in Himachal Pradesh and Jammu and Kashmir.