ulta pulta
Budget savvy
Jaspal Bhatti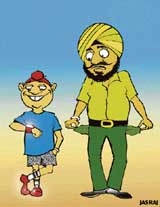 You must understand the budget proposals and mend your life accordingly", I advised my son and told him to take more interest in studies as the Finance Minister had increased education cess to 3 per cent. He said, "Dad, how does it concern me?" I explained that since I will have to shell out more from my pocket for the cause of education why my own son shouldn't benefit from it?
Jasraj, my son, with a smirk on his face, suddenly raised a demand for a new watch and a pair of shoes. "What's the connection between this demand and my suggestion to do an extra mile in studies?" He said, "It certainly has a link with the Budget. The Finance Minister has cut down the excise duty on footwear and watches and it should be an incentive for you to buy me this stuff."
I tried to make my son understand that as it is inflation was not coming under control. In fact he should be selective in his shopping. "Dad, look at the brighter side. We have to keep up with the growth too. If you buy me new things, it'll give a boost to the manufacturing and trading industry", my son countered.
"Beta why don't you understand that if I spend all my money on your luxuries, how would I be able to support your studies?" I posed him a question to make him realise my difficult situation. He said, "Dad, why don't you get my studies financed? The Finance Minister has announced a special concession on such educational loans."
I said, "Okay son, could you follow my one final advice?" "What is it?" he asked. I said wryly, "Don't follow the Budget seriously."