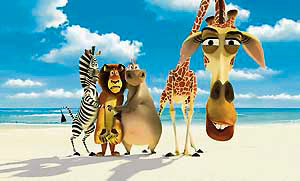 Get animated about DIMENSION
Salil Desai
Each one of us lives with a million pictures in our minds, and often we wish we could show them to the world in the same way, but they are often lost or distorted. It is estimated that 70 per cent of the ideas and visual imageries die before they are translated into concrete forms. But the scene is fast changing and animation is the key to the explosive powers of expression. Animation is envisaged as a tool for bringing about a cultural, social and technological revolution.


Careercature
Sandeep Joshi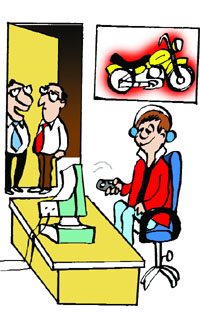 Is this how the management plans to lend a young image to the company?

Finance, consulting jobs hot picks at IIM-B
Lateral placements witness a spurt at IIM-L
Nearly two thirds of IIM-B graduates this year went in for finance and consulting jobs, pushing aside last year's popular choice - investment banking.


Concentration the key to success in exams
I.M. Soni
One difference between a person who comes out in flying colours in an examination and the one who fails, is that the former is focused, the latter, scattered in thought. Watch the two sitting in an examination hall, answering questions. The former is a picture of concentration. He is totally immersed in writing. The latter is constantly rotating his neck left and right. He is busy overseeing his neighbour's copy.


Bits & bytes
Adding to the skills of accounting technicians
Given the acute shortage of accounting professionals in the country, the Institute of Chartered Accountants of India (ICAI) is planning to introduce a course for accounting technicians. "We have submitted our proposal to Ministry of Company Affairs for the introduction of this course and awaiting approval," ICAI president Sunil Talati said on the sidelines of a MoU signing function with Indira Gandhi National Open University (IGNOU) in New Delhi recently.


3.8 lakh more join IT industry
India's booming IT and ITeS sector is estimated to have hired 3.80 lakh people during the current financial year as demand for technology talent gained further momentum, officials said. The information technology (IT) sector took on board 1,80,000 people and information technology-enabled services (ITeS) 200,000 on a gross basis in 2006-07 (April-March), according to industry estimates.


Smart Skills
Of commercials and client servicing
Usha Albuquerque
Everyday, we are bombarded by messages in visual or audio form, coaxing us to buy a particular product or service. 'No one can eat just one! Daag ache hai! Whether it is a brand of soap, a computer, the latest model of a car, or a service that transports you to exotic locations, the message always is that of persuasion. This is advertising. Yeh hi hai right choice!


Career Hotline
Best for biotech
Pervin Malhotra
Q My friend and I are very interested in pursuing B.Tech Biotech. Can you please suggest which institutes are considered the best in terms of placement? We are very confused because different people suggest different names.
Calculated move

Marching order

Testing time